IL-TV will show the speech of SDP chairman Sanna Marini live at 1:30 p.m.
Chairman of SDP and Prime Minister of Finland Sanna Marin considers it an important milestone that the Hague International Criminal Court ICC has issued an arrest warrant for the President of Russia About Vladimir Putin.
Marin presented his assessment of Russia and dictator Putin on Sunday while speaking at Narinkkator in Helsinki.
– It's about the credibility and future of the entire international and rule-based system: a stronger one cannot enter another country's territory with violence and murder civilians and kill the population and seize land, Marin stressed.
Marin wants Putin on trial and in prison to answer for systematic war crimes committed by the Russian army.
– Now Russia is flagrantly violating the rights of Ukrainians. It violates international law. An arrest warrant has been issued for Putin this week: The ICC has issued an arrest warrant.
– It was about time, Marin emphasized.
The people gathered at Narinkkatori gave Marin a spontaneous round of applause.
– We have to make sure that Ukraine wins this war. They need humanitarian and financial assistance, Marin said.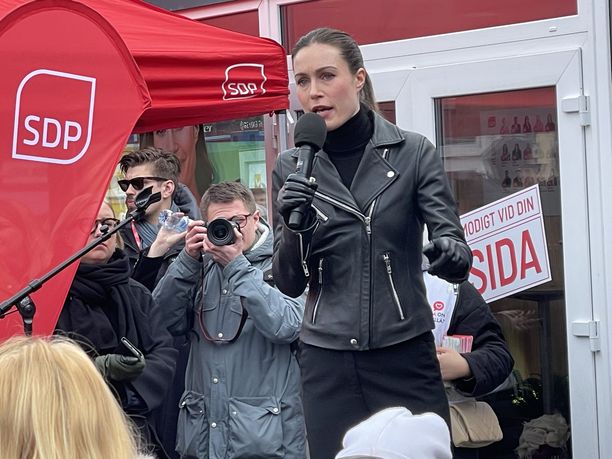 The Prime Minister spoke at Narinkkatori at the SDP election. Lauri Nurmi
The chairman of SDP demands stronger sanctions against Russia and a quick increase in arms aid to Ukraine.
– First of all, they need stronger weapons with which they can push the Russian troops out. We need to supply them with battle tanks and ammunition. We also need to supply them with air defenses and fighter jets. Together and internationally, Marin presented.
The Prime Minister of Finland emphasizes that the Ukrainians are currently also fighting for the Finns.
– They are fighting for their independence, sovereignty and rights: for the fact that they have the right to choose their own future. They are also fighting for European values: for peace, equality, human rights, the rule of law and democracy, Marin estimates.
The part of the speech about stopping Russia and supporting Ukraine garnered the biggest applause and nods from the audience.
– Every day, Ukrainians fight on the front lines for European values, Marin said.
SDP will hold its party council meeting on Sunday in Helsinki.