Tag team wrestling in WWE was arguably at its strongest in the Attitude Era with the likes of Edge and Christian, the Dudley Boyz, and the Hardy Boyz slugging it out over the WWE Tag Team Championship. However, some super-heavyweights formed tag teams together and they looked menacing together. Some of the heaviest wrestlers in WWE history were in tag teams with smaller competitors. There were several instances where it worked as the lighter of the two could do high-flying maneuvers and the super-heavyweight could do the power moves.
RELATED: Top 10 Heaviest Wrestlers To Win A WWE World Championship
Some makeshift tag teams proved successful as they got their hands on different variations of the WWE Tag Team Championship. The heaviest tag teams in WWE history that won gold had a contrast of success with some having long championship reigns and others having short ones.
10
Brothers Of Destruction – 654 Lbs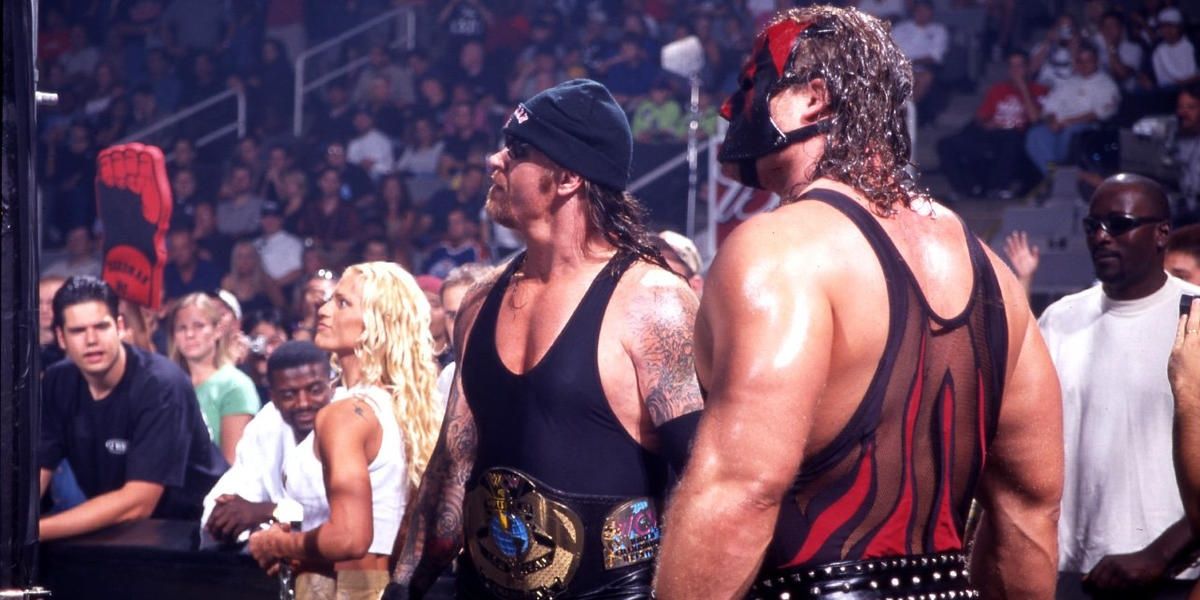 The Undertaker and Kane became a full-time tag team in 2001 and the Brothers of Destruction were a force to be reckoned with. The American Badass weighed in at 328 pounds and his younger brother Kane weighed in at 326 pounds.
They captured the WWE Tag Team Championship twice and the WCW Tag Team Championship. Undertaker and Kane held both WCW and WWE Tag Team Championships simultaneously. The Brothers of Destruction were a dominant team in the Invasion angle, and fans were pleased to see the pair on the same side.
9
Jeri-Show – 711 Lbs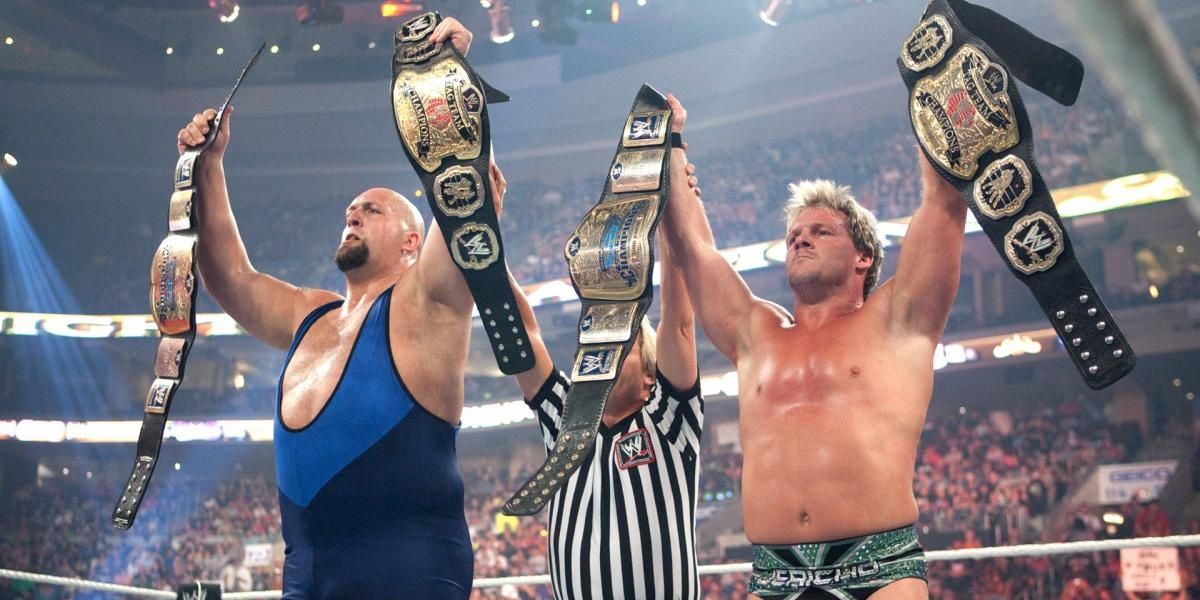 Chris Jericho and Edge's alliance as Unified WWE Tag Team Champions ended prematurely as the Rated-R Superstar tore his Achilles. At Night of Champions 2009, Jericho picked fellow veteran Big Show as Edge's replacement to be his new tag team partner.
Jeri-Show weighed a combined weight of 711 pounds with Show making up the majority of that total at 485 pounds. They were an excellent tag team as they defended the titles on Raw, SmackDown, and on pay-per-view with their five-month championship reign coming to a halt by DX in a TLC match at TLC 2009.
8
ShoMiz – 716 Lbs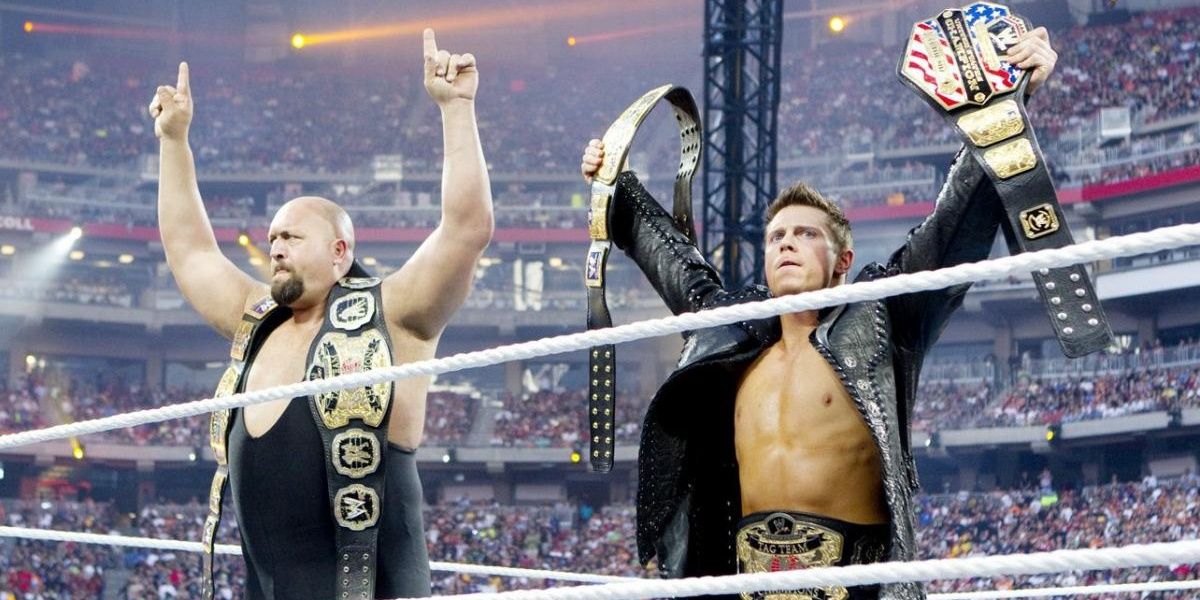 Big Show wasted no time by finding a new tag team partner after his successful stint with Chris Jericho was over. The World's Largest Athlete began teaming up with the WWE United States Champion The Miz and they quickly won the Unified WWE Tag Team Championship from DX in a triple threat tag team match.
ShoMiz only held the titles for a couple of months, but they retained the titles in the curtain-raiser at WrestleMania 26. Show and Miz's partnership was short-lived with Show turning face and shifting his attention towards Jack Swagger's World Heavyweight Championship.
7
Men On A Mission – 770 Lbs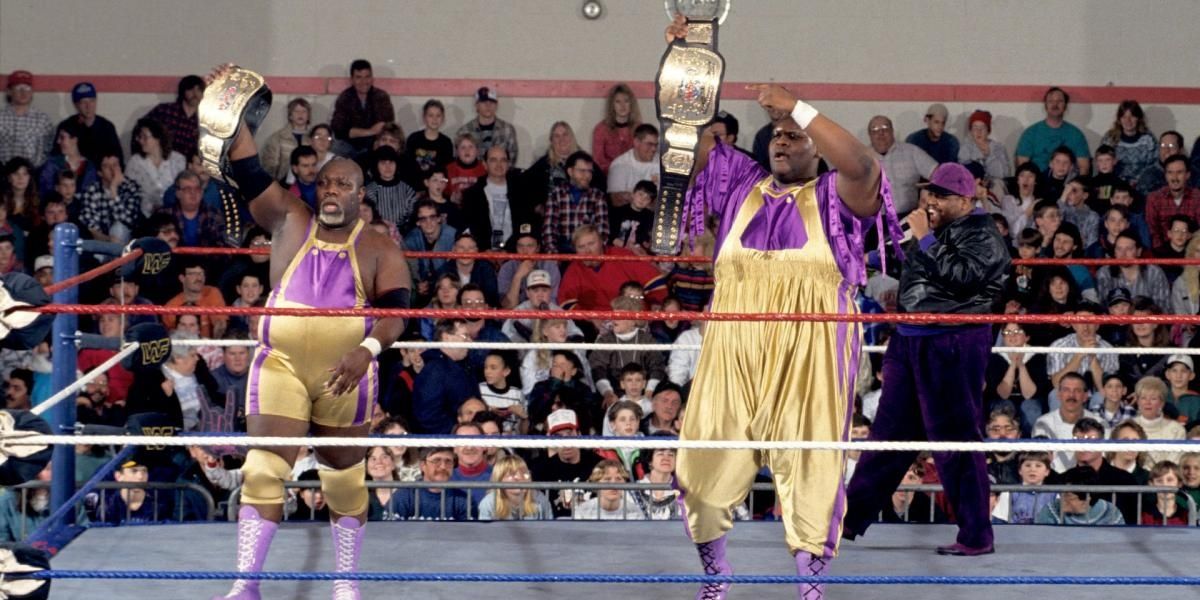 Mabel and Mo also known as Men on a Mission were one of the most popular tag teams in the New Generation Era. Fans would chant "Whoomp There it is!" Men on a Mission challenged the Quebecers for the WWE World Tag Team Championship at WrestleMania 10, but they failed to take home the titles.
RELATED: 10 Random Tag Team Champions From The '90s You Forgot About
Men on a Mission clinched the WWE World Tag Team Championship on a live event in London, England on March 29, 1994, but they dropped the titles back to the Quebecers two days later in Sheffield, England.
6
Colossal Connection – 793 Lbs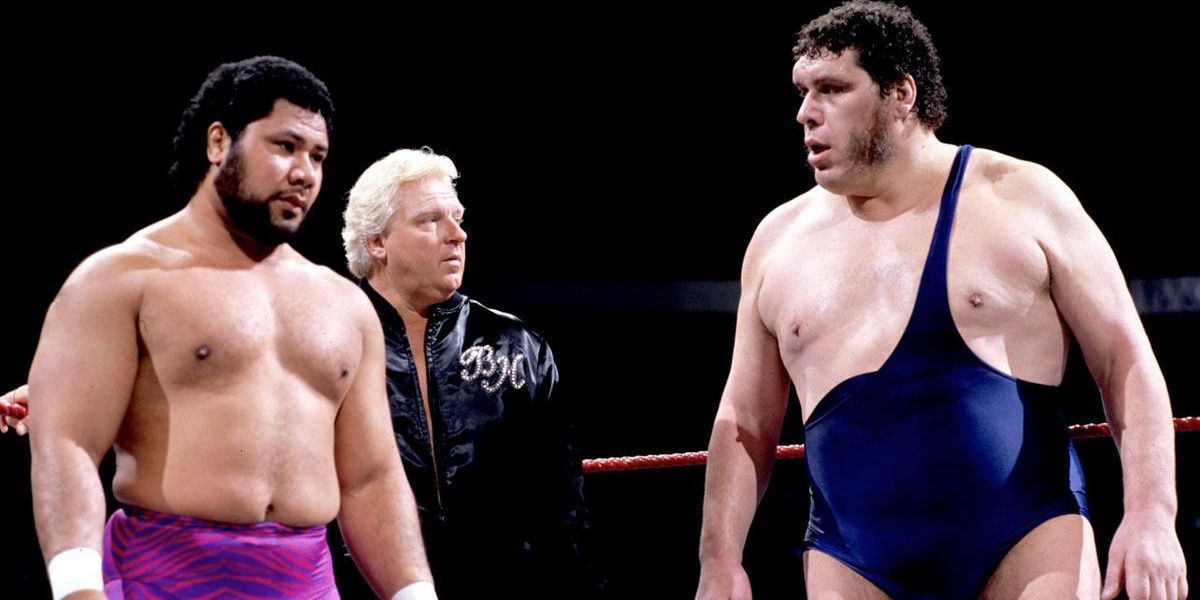 Unfortunately, Andre the Giant's health rapidly declined which is why he was put into a tag team with his Heenan Family stablemate Haku in late 1989. They were called the Colossal Connection and Bobby "The Brain" Heenan was their manager. Haku was a big man in his own right, but he looked small next to Andre.
Silverware came their way as they defeated Demolition for the WWE World Tag Team Championship. They held the gold for four months and they dropped the titles back to Demolition. Their partnership dissolved at WrestleMania as Heenan attacked Andre but Andre got the last laugh as he attacked Heenan and Haku.
5
Owen Hart & Yokozuna – 795 Lbs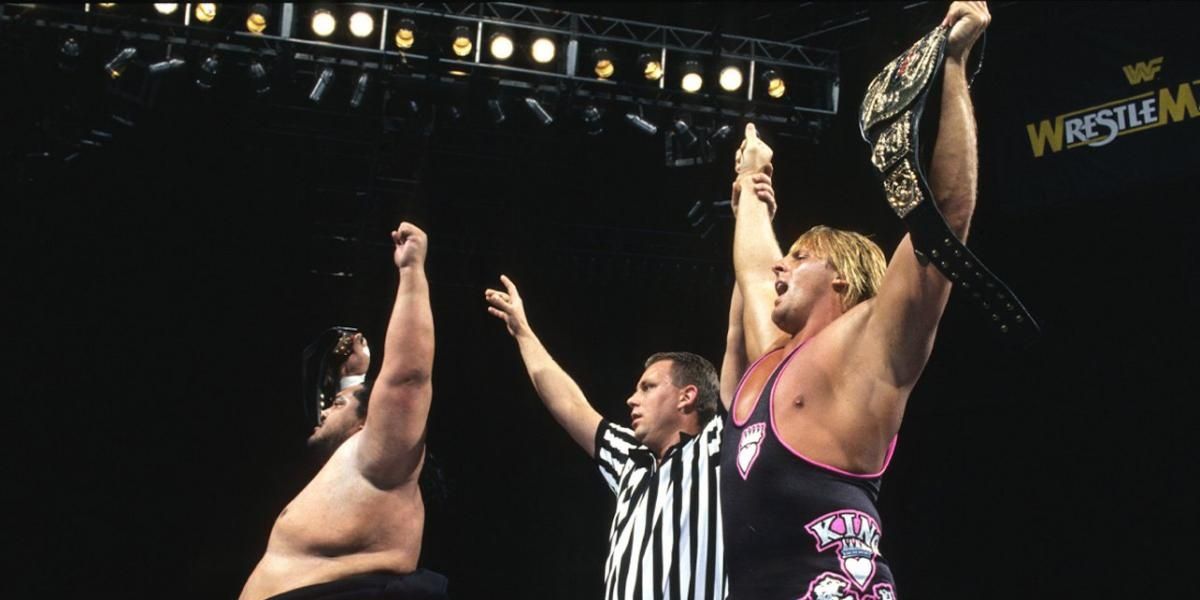 The tag team between Owen Hart and Yokozuna is an underrated alliance in the New Generation Era. At WrestleMania 11, the King of Harts unveiled the two-time WWE Champion as his surprise tag team partner. They made it a night to remember as they ended the Smoking Gunns, the WWE World Tag Team Championship reign.
Hart and Yokozuna held the titles twice and Jim Cornette managed them. However, Hart wrestled a large chunk of their matches as Yokozuna put on a considerable amount of weight and he wasn't as mobile in the ring as he was previously. Their alliance grew as they became members of Camp Cornette alongside the British Bulldog.
4
Kane & Big Show – 827 Lbs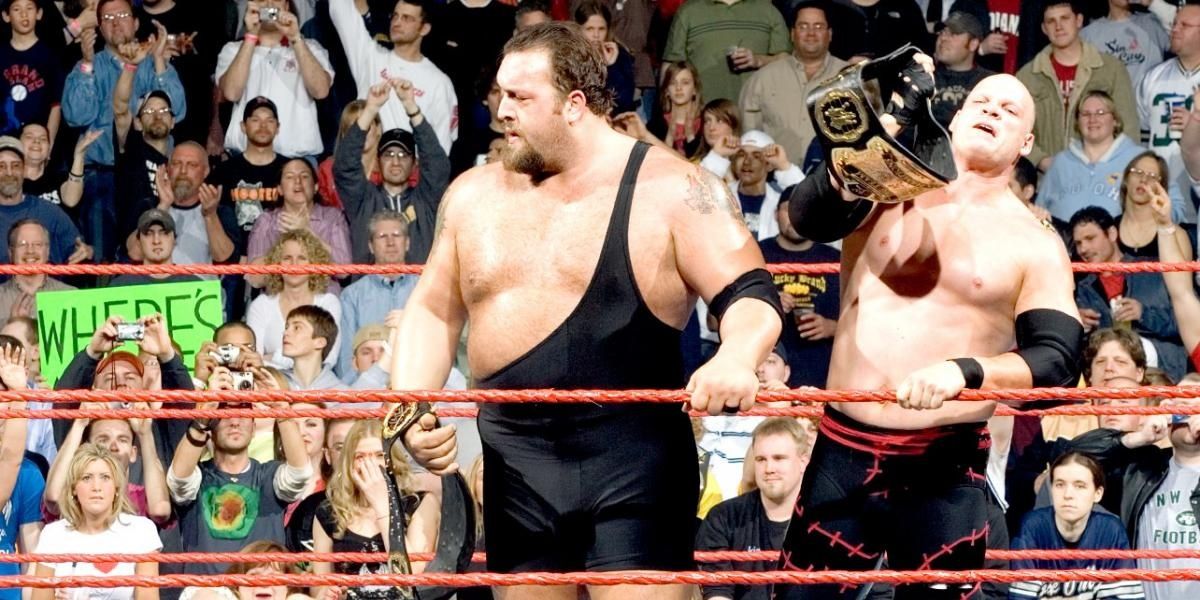 Kane and Big Show's alliance began because they were not voted to compete in the triple threat match for John Cena's WWE Championship at Taboo Tuesday 2005. Kurt Angle was already involved and Shawn Michaels got more than Kane and Show. The giants combined to beat Lance Cade and Trevor Murdoch for the World Tag Team Championship.
RELATED: 5 Best WWE Tag Team Champions Of The Ruthless Aggression Era (& 5 Worst)
They were in a rich vein of form as they beat SmackDown's WWE Tag Team Champions Batista and Rey Mysterio at Armageddon 2005. Ultimately, the Spirit Squad ended their title run on the Raw after WrestleMania 22, but Kane and Show won the WWE Tag Team Championship five years later with the pair weighing at a combined weight of 827 pounds.
3
The Unholy Alliance – 828 Lbs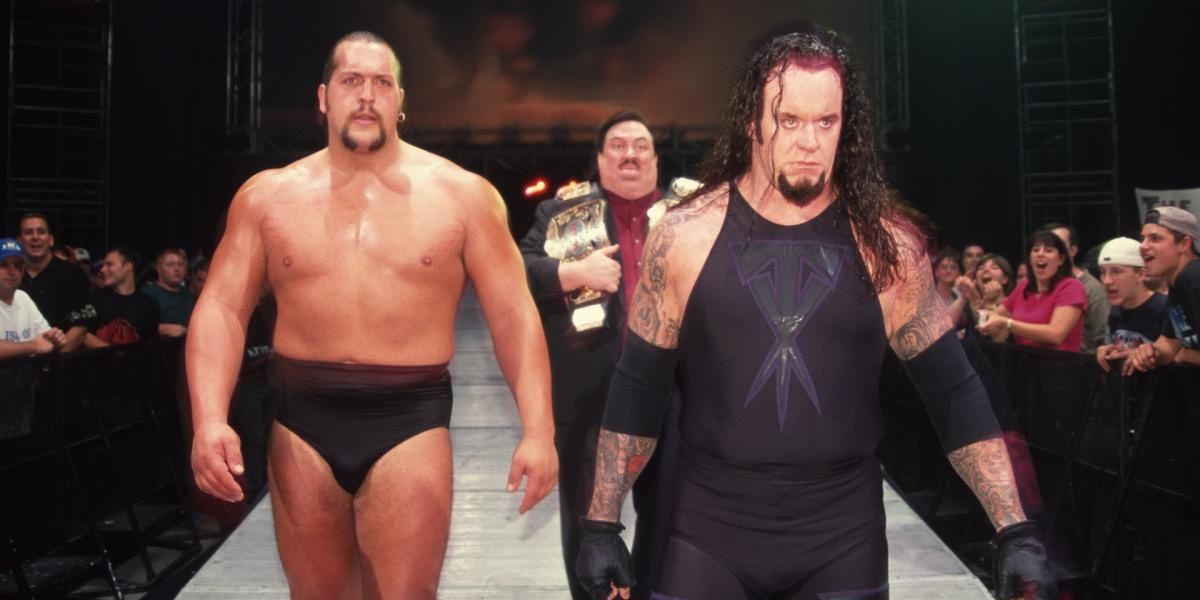 The Undertaker took Big Show under his wing after the Corporate Ministry disintegrated. The Unholy Alliance's partnership ended abruptly because of Undertaker's injuries which ruled him out of action for several months. Nevertheless, they managed to win the WWE World Tag Team Championship twice.
Paul Bearer was their manager, and both Undertaker and Show moved exceptionally well for men of their sizes. Show weighed 500 pounds and Undertaker was 6'10 and he weighed 328 pounds. They barely teamed up together but they had some superb bouts with X-Pac and Kane, and the Rock 'n' Sock Connection.
2
Haystacks Calhoun & Tony Garea – 846 Lbs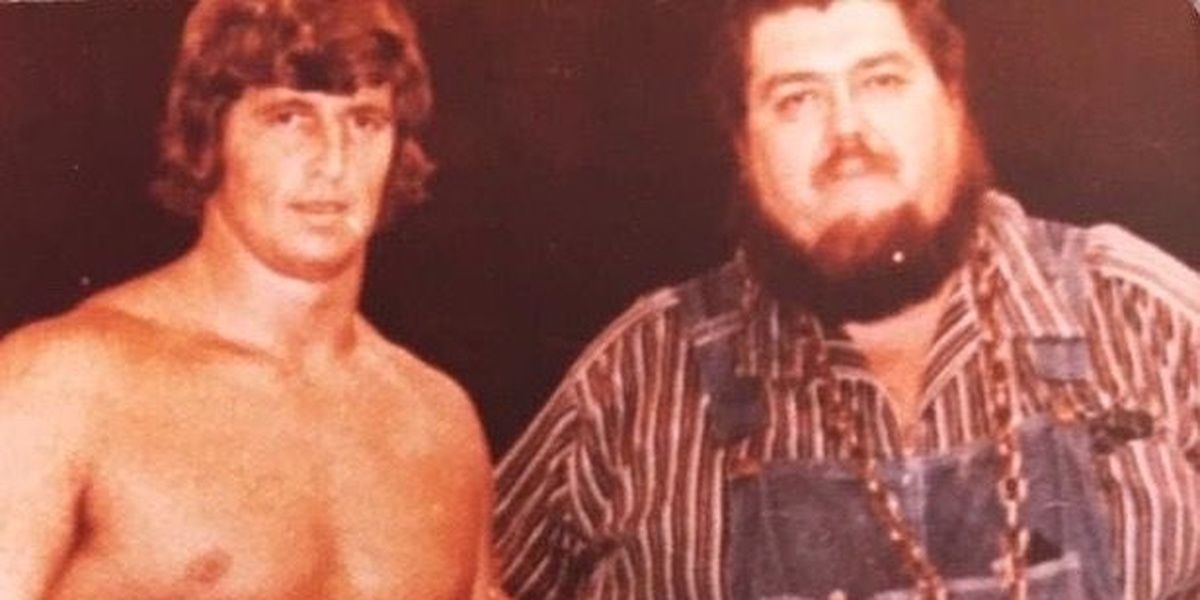 Haystacks Calhoun is one of the heaviest wrestlers to compete in a WWE ring. Calhoun weighed a whopping 601 pounds and he formed a partnership with Tony Garea. However, on May 30, 1983, on a live event in Hamburg, Pennsylvania they defeated Mr. Fuji and Professor Tanaka for the WWE World Tag Team Championship.
They successfully defended the titles on multiple occasions, but they dropped the titles six months later back to Fuji and Tanaka. Garea would go on to win the WWE World Tag Team Championship four more times, and he's recognized by WWE fans as being a road agent in the 2000s.
1
The Natural Disasters – 852 Lbs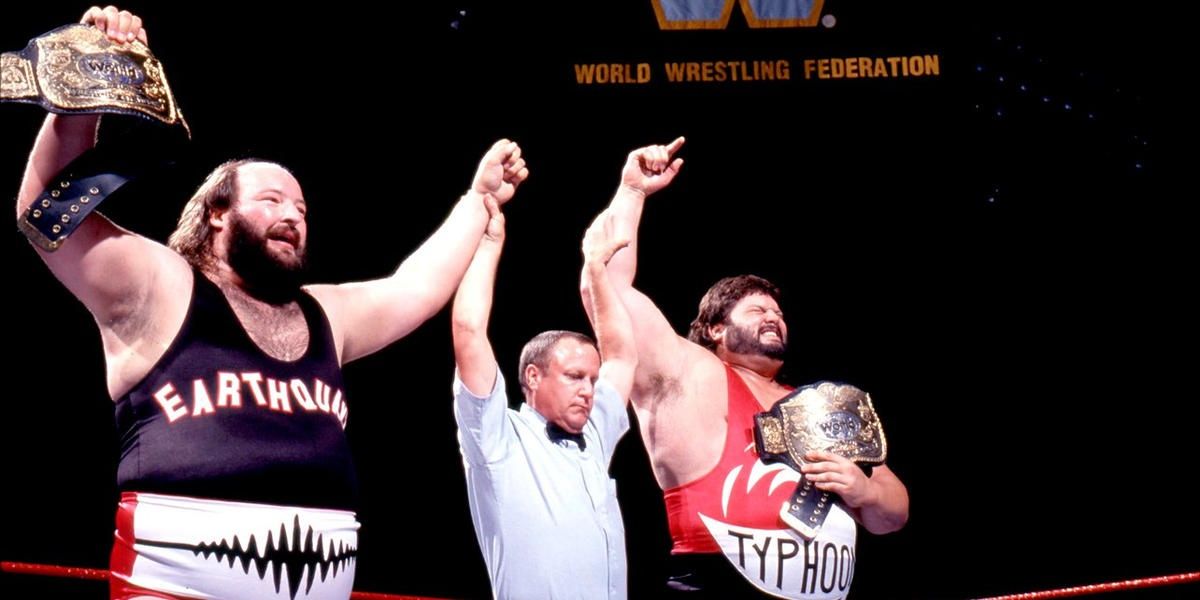 The Natural Disasters' Earthquake and Typhoon were one of the heaviest tag teams in the Golden Era. They almost weighed a combined weight of 900 pounds, and they were engaged in feuds with the likes of the Legion of Doom and Money Inc.
They couldn't take the WWE World Tag Team Championship off Money Inc. at WrestleMania 8 but they finally beat them for the titles at a live event in Worcester, Massachusetts. The Natural Disasters only held the WWE World Tag Team Championship once as they dropped the titles back to Money Inc. in October 1992.