Every installment of Faerie Tale Theatre, a candy-floss fantasy series from the '80s, comes with a promise: You're always going to see screen presence legend Shelley Duvall, and you're going to see hammy acting. The premise is this: Each episode, Duvall takes on a different fairytale, sometimes even playing a character herself, and guides the viewer through tales of magic and might. Coated with a fuzzy layer of familiarity, the series is a showcase for Duvall and her fittingly elfin features. (In fact, the show is sometimes known as Shelley Duvall's Faerie Tale Theater.) The show, which ran from 1982 to 1987, makes use of elaborate-yet-inexpensive costumes, over-the-top performances, and painted sets, trapping it in an amber of quasi-theater. But perhaps the most fantastical thing about Faerie Tale Theater is that it's not the only one of its kind. A very similar atmosphere hangs over Jim Henson's own '80s television series The StoryTeller. Hosted by a mysterious, prosthetically-enhanced storyteller, the series presents obscure European tales through the use of puppets and other Henson magic. Part of an '80s fantasy wave — demonstrated on the silver screen through favorites like Willow and The Princess Bride — both shows represent a certain bygone flavor of American television, colorful and deliberate. Soft fantasy television may be past its prime, but its world is as alluring as ever.
RELATED: Why Disney's 'Enchanted' Worked Where Other Modernized Fairy Tales Failed
'Faerie Tale Theatre' Is a Charming Fantasy For All Ages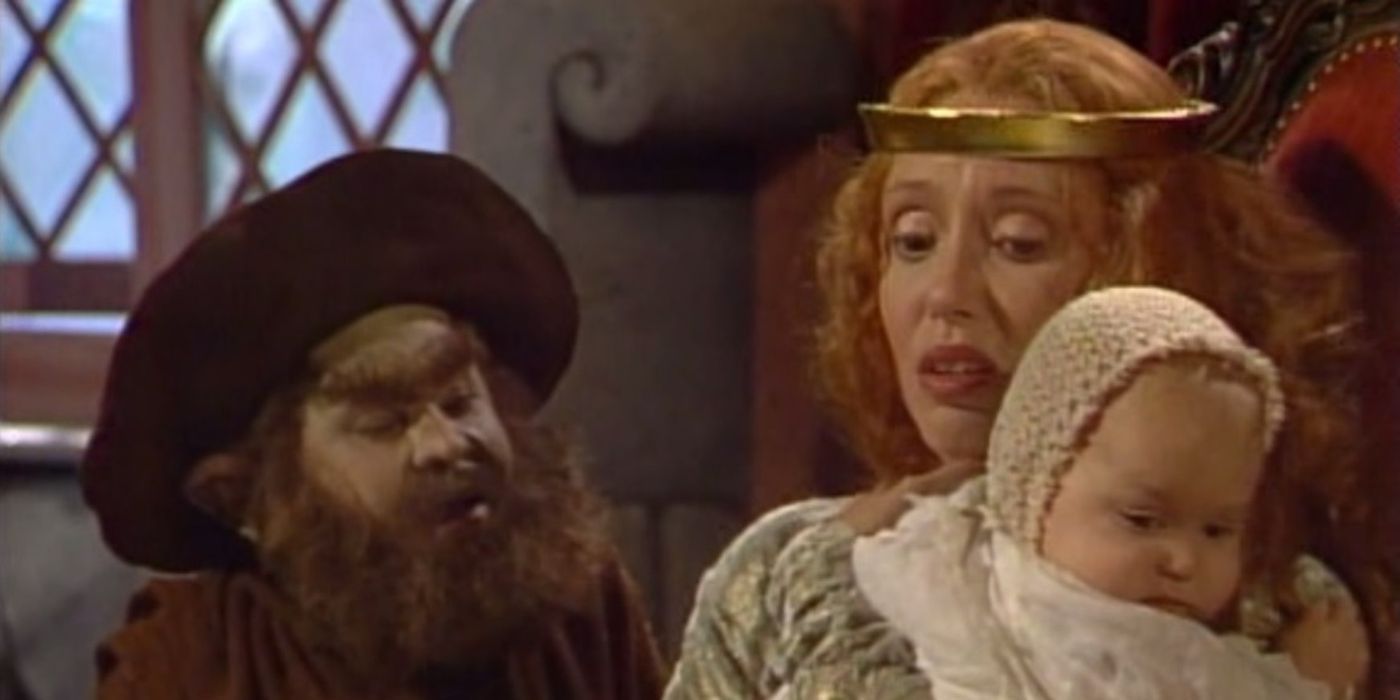 If you've ever wanted to see Shelley Duvall talk to a tiny horse with a horn strapped to its head, you're in luck. Faerie Tale Theatre is packed with odd little details like this: Old blue screen techniques, hollow sets, and fabulous workarounds. In the "The Little Mermaid" episode, for example, guest stars Helen Mirren, Pam Dawber, and Laraine Newman, all playing mermaids, have their hair suspended in the air to simulate being underwater. These small, budget-conscious details are part of what makes the show so charming — we know this is children's theater, and we're getting exactly what was advertised.
The show's own origin story seems to echo the clear passion behind the production. On the set of 1980's Popeye, Duvall — playing Olive Oyl — was reading The Frog Prince. She approached her co-star Robin Williams with her idea for a series of fairy tales, and Faerie Tale Theatre was born. Robin even played the frog prince for the pilot episode. One wonders if the hyperbolic prosthetics and cartoonish tone used in Popeye had a creative effect on the show — just look at the makeup on some of the side characters! Numerous guest stars, often famous names, are outfitted in gold-cardboard crowns and flowing robes. (At one point in the "Rumpelstiltskin" episode, Duvall, playing the queen, drops her lightweight circlet. They work it into the shot.) There's a warmth to the series because of these familiar faces. Still, the gritty underbellies of many European fairytales aren't forgotten — characters are threatened with death, face deadly circumstances, and are married off by their fathers. In other words, this isn't quite Disney. It's a curio, something that can be enjoyed by adults and children at different capacities. Even if you're only watching for the comfy, pearl-laden aesthetic, you're bound to come away charmed by something.
'The StoryTeller' Remains a Triumph in Visual Storytelling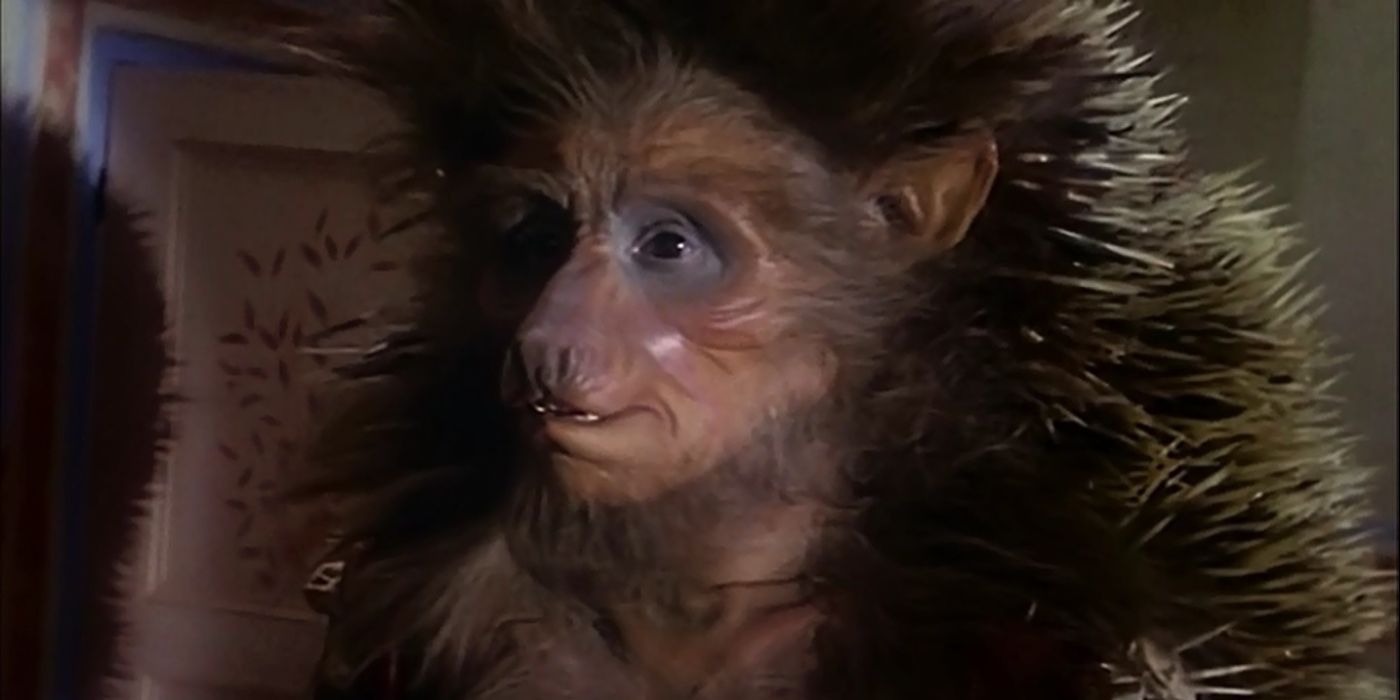 "The best place at the fire was kept for … the storyteller." Much like Faerie Tale Theatre, Jim Henson's The StoryTeller, which aired from 1987 to 1989, is determined to create its own reality. With the help of puppets, costuming, and animation, an inviting yet still mysterious storyteller (John Hurt) invites us into recreations of many traditional European folk tales. (A spin-off series, starring Michael Gambon, also takes us through the realm of Greek mythology.) Along with his dog, masterfully rendered in Henson fashion, The StoryTeller regales us with stories of heartbreak, love, death, and beasts — all the while upholding the quality Henson is known for. Inspired by his daughter's mythology classes, Henson decided to utilize his creature shop (Jim Henson's Creature Shop, which he founded with artist Brian Froud) to conceptualize the look of the series. The episode Hans My Hedgehog, based on a German tale, is a sort of proto-Beauty and the Beast — meaning it's a great demonstration of practical effects. The titular hedgehog-man (called a grovel-hog in the story) is scary and intriguing in turn, a creature more physically present than most of the beasts we see rendered by computer effects. Though this and other similar elements may prove a bit scary, anyone who's a fan of Labyrinth or The Dark Crystal will find themselves in familiar territory. The episode Fearnot is a wonderful demonstration of the show's visually experimental look — ghostly female figures encircle the titular protagonist, enticing him to drown in a pool of water. An inhuman pond sprite, its head crowned with a bundle of glowing tendrils, is entranced by string music. The StoryTeller remains a feat of visual storytelling, even among the rich fantasy worlds of the present. Its unique visual languages — layered paper, cutouts, reflections — remind one of a storybook of the highest quality.
How Fairy Tale Television Has Evolved
Fantasy hasn't necessarily gone anywhere — in fact, some say it's more important than ever to television viewers. Instead, it might be more accurate to say that fairytale fantasy has split. Lighter, more Disney-fied versions of fairytales are everywhere, but so are overly grown-up ones. (Has anyone seen Snow White, A Tale of Terror?) What makes the atmosphere of fairytale television so intriguing is its ability to walk down the middle — to present old stories with their faults still visible. By the end of Faerie Tale Theatre's "Rumpelstiltskin" episode, Shelley Duvall's character has become a happy wife and mother — never mind the fact that she was forced into marriage and threatened with execution. In The StoryTeller, Hans' mother dies of a broken heart. Things are not always happily ever after in these stories, but they are always creative, interesting, and faithful. How magical is that?