The government raised the retirement age with a constitutional special power that allows it to pass laws without a vote.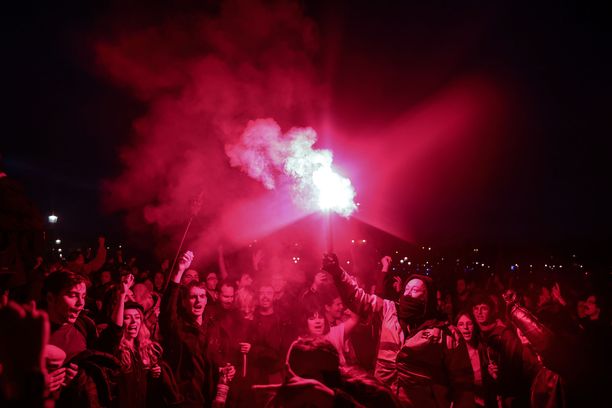 Protesters light torches as they demonstrate against the French government's pension reform in Paris on March 16, 2023. EPA / AOP
the president of France Emmanuel Macron The government on Thursday pushed a controversial pension reform through the country's parliament without a vote, sparking protests in Paris and other French cities.
According to AFP, which reported on the matter, it was possible for the French government to use a constitutional special power in the vote, under which it can approve laws without a vote.
The government used this special power to raise France's retirement age from 62 to 64 after failing to get a parliamentary majority behind it.
The country's senate had approved the bill earlier on Thursday, but the reluctance of MPs in the country's lower house of parliament, the French National Assembly, to back Macron meant the government faced defeat in the lower house.
Demonstrations raged
A crowd of thousands of people gathered in front of Parliament on the historic Place de la Concorde in central Paris, guarded by riot police.
– I am dismayed by what is happening. I feel like I'm being cheated as a citizen, said the 55-year-old teacher Laure Cartelier.
– In a democracy, this should have happened through a vote, he continued.
As the protests intensified, the Paris police began to break up the demonstration with the help of tear gas and water cannons, while a fire was lit in the middle of the square near the historic Luxor obelisk.
A photo of riot police at the Place de la Concorde in Paris on March 16, 2023. EPA / AOP
According to the Paris police, around 120 people were arrested at the demonstration on suspicion of causing damage.
According to the correspondents of the AFP news agency, some protesters started fires and caused damage to the facades of shops located on side streets even after the demonstration was dispersed.
In addition, in the southern French city of Marseille, several shops were looted during the protests. Clashes between protesters and security forces were also reported in cities such as Nantes, Rennes and Lyon.