In this article, the most significant twists and turns of the war in Ukraine from Sunday have been collected.
Russia claims that Putin visited Mariupol.
Russia plans to continue the forced relocation of kidnapped Ukrainian children to Russia, NYT reports.
Putin says he postponed the major attack on purpose.
Putin: "We were tricked"
President of Russia Vladimir Putin said on Sunday that he postponed the major attack because the Russian economy and army were not ready for it in 2014, Kyiv Independent news.
Russia seized Crimea from Ukraine in 2014 and started a war in eastern Ukraine in the Donbas region. In an interview on Russian television, Putin let it be understood that he had already planned a major attack in 2014, but decided to postpone it because Russia did not yet have hypersonic weapons. The Russian economy had also needed time to prepare for the war.
Putin also said that Russia had believed it could resolve the situation peacefully, according to a Russian news agency TASS brings up from the interview with Putin.
– Now we see that we were cheated, and none of our so-called partners intended to resolve anything peacefully, Putin added.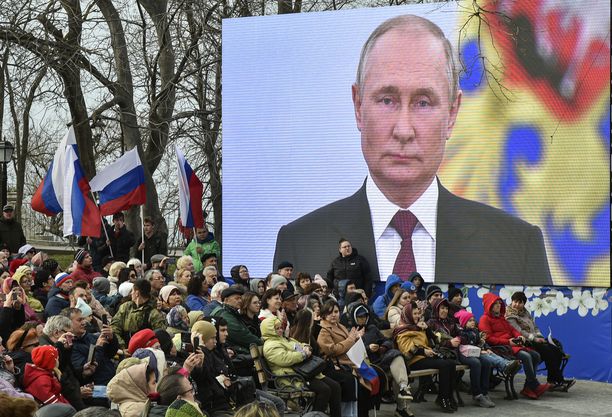 The anniversary of the annexation of Crimea was celebrated on Saturday. AOP/Stringer
Three civilians were killed in Zaporizhia
Three civilians were killed in the Zaporizhzhia region in a Russian bombardment, the command of the local armed forces said In Telegram.
Two civilians were also injured in the bombing. Local residents were advised to leave dangerous areas.
Ukrinform reports that ten civilian targets have been reported destroyed as a result of Russian military bombing on Sunday.
Russian media of TASS According to Russian forces, dozens of Ukrainian soldiers were killed in battles in the southern Donetsk and Zaporizhia region. There is no mention of civilian targets.
NOW: Russia intends to continue the forced relocation of Ukrainian children
Arrest warrant issued by the International Criminal Court (ICC). About Vladimir Putin and the Russian Children's Ombudsman Marija from Lvova-Belova does not seem to affect Russia's actions regarding Ukrainian children.
According to the ICC, Putin and Lvova-Belova are suspected of war crimes because they have forcibly transferred Ukrainian children to Russia. So it's about the kidnapping of Ukrainian children.
According to the New York Times, all signs point to Russia continuing to forcibly relocate Ukrainian children from Ukraine to Russia, where they will likely end up being adopted by Russian families.
After the ICC arrest warrant, Lvova-Belova bluntly stated that she would "continue her work".
Russia has kidnapped thousands of Ukrainian children for adoption in Russia. Illustration picture. EPA/AOP
NYT points out how the Russian authorities have not even tried to cover up the forced relocations and adoptions of children. Photos of kidnapped Ukrainian children have been presented, for example, at celebrations of the armed forces.
There is no exact information on how many Ukrainian children have been abducted to Russia. Russia has admitted that it transferred 2,000 orphaned Ukrainian children to the Russian side, but according to the Ukrainian authorities, 16,000 children were taken to Russia.
President of Ukraine Volodymyr Zelenskyi commented after the ICC's decision that he believes the number of kidnapped Ukrainian children is higher than the official estimate.
Researcher: Belarus' faith in the Russian armed forces has been shattered
Russia's losses have had a negative impact on the opinion of Belarusians about the justification of the war in Ukraine.
Only a third of Belarusians support Russia's offensive actions, and a crushing 93 percent are against sending Belarus' own troops to Ukraine.
Investigator Katia Glod points out that Russia's losses on the battlefield have shattered the confidence of the Belarusian armed forces in Russian forces. He writes about it on the website of the European Leadership Network think tank.
According to Glod, high-ranking officers have told an independent news agency about the matter. According to the officers, "the deep trust in the ability and superiority of the Russian armed forces has crumbled."
In addition, the armed forces of Belarus suffer from a weak will to fight and a quantitatively modest number of skilled soldiers. Because of these facts, the autocratic leader of Belarus Alexander Lukashenko is unlikely to send its troops to Ukraine, but prefers to keep them as its own security against potential protesters, according to Glod.
Russia has used Belarus as a "springboard" when attacking Ukraine and has received, among other things, logistical help from Belarus during the war.
Belarus has also supported Russia in other ways, such as by supplying Russian troops with ammunition and Soviet-era tanks. In the name of military cooperation, various Russian missile systems have also been placed in Belarus.
Belarus' faith in the Russian armed forces has been shattered, the researcher writes. EPA/AOP
Russia claims: Putin visited Mariupol
Russian state media claims the country's president Vladimir Putin having also visited the city of Mariupol during his Ukrainian tour. On Saturday, Putin made a surprise visit to Crimea.
However, many have expressed doubts whether Putin actually visited Mariupol. You can read more about the topic from here.
If the information about Putin's visit to Mariupol is true, it will be the first time during Russia's illegal war of aggression that Putin has visited the Donbas region.
According to the Russian state media, Putin would have arrived in Mariupol by helicopter and later he would have been driven around the city by car. During his visit, he is said to have spoken with local people and was reportedly given a report on the city's renovation work.
Last spring, Russia practically destroyed Mariupol with its bombings.
Saturday marked nine years since Russia illegally annexed Crimea. This has not been internationally recognized either, but the occupied territory belongs to Ukraine. However, this anniversary was Putin's reason for visiting the peninsula.
Vladimir Putin visited Sevastopol on Saturday, when it was nine years since the annexation of Crimea. EPA/AOP
Zaharova: Russia is ready to negotiate, knock out Zelensky's terms
Spokesman of the Russian Ministry of Foreign Affairs Maria Zakharova says Russia is ready to negotiate an end to the war. In the same breath, however, he rejects the president of Ukraine to Volodymyr Zelensky of the listing's peace terms.
– For our part, we have repeatedly stated that we are open to serious proposals from the West and Ukraine for a political and diplomatic solution to the crisis, but we cannot accept threatening language, Zaharova says in Telegram.
Zaharova also condemns the Ukrainian authorities for not being willing to sit down at the negotiating table. The comments follow the Foreign Minister of Ukraine Dmytro Kuleban a tweet in which he says that he is talking to the Chinese foreign minister about Zelensky's peace terms.
Zelensky's 10-point list includes, among other things, demands for the return of prisoners of war and children deported to Russia, the sentencing of Russian war criminals and the return of territories belonging to Ukraine. Zaharova calls the listing "just a bunch of ultimatums that are detached from reality."
Zaharova says that Russia wants the sanctions imposed on it to be lifted and international recognition of the territories annexed by Russia. In these regions, he means Luhansk, Donetsk, Kherson, Zaporizhia and Crimea. In addition, he repeats the Kremlin's demands for the demilitarization and "denazification" of Ukraine.
In February, Zelenskyi repeated his position that he does not agree to negotiate Vladimir Putin with.
– It's not the same man. There is no one there to talk to, Zelenskyi said.
The spokesperson of the Ministry of Foreign Affairs, Marija Zakharova, does not warm to Ukraine's peace terms. EPA/AOP
Russia hit Kramatorsk with cluster bombs, two dead
Two people have been killed and eight wounded in the shelling by Russian forces in Kramatorsk. The mayor of the city Oleksander Goncharenko accuses Russia of using cluster bombs in the attacks.
– Russia continues to spread terror. As a result of the attacks with cluster bombs in Kramatorsk, two people died and eight were wounded, three of them seriously, Gontcharenko says on Facebook.
AFP reporters reported hearing about 10 explosions almost simultaneously at around 4 p.m. According to the reporters, smoke could be seen over the southern part of the city. They say they saw at least one woman die from her injuries at the scene.
The use of cluster weapons is prohibited by an international agreement signed by more than 120 countries. For example, Finland, Russia, Ukraine, China and the United States have not joined the agreement.