As a result of Russian President Vladimir Putin's arrest warrant, Putin's summer visit to South Africa is causing problems.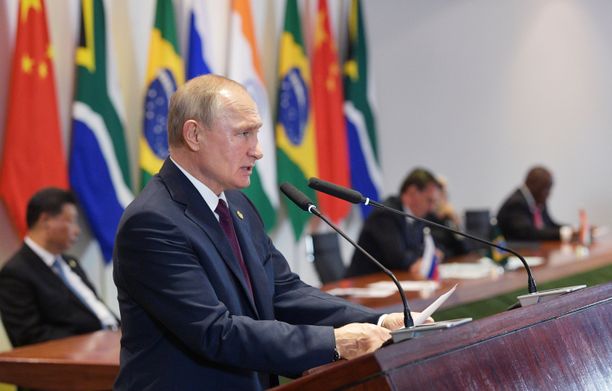 In 2019, the BRICS summit was held in Brazil. AOP/sputnik
The South African administration intends to continue cooperation with the Russian president Vladimir Putin with, even though he has been ordered to be arrested. The International Criminal Court in The Hague issued an arrest warrant for Putin on Friday, March 17.
Putin is scheduled to visit South Africa in August, when Brazil, Russia, India, China and South Africa meet for the BRICS summit.
– We are aware of our obligations imposed by law. However, before the summit, we intend to continue cooperation with the relevant actors, the president of South Africa Cyril Ramaphosa representative Vincent Magwenya says about the arrest warrant.
South Africa in a tight situation
South Africa has not condemned Russia for its actions in Ukraine. However, the decision of the International Criminal Court put South Africa in a difficult position and the official response to the arrest warrant was very roundabout. According to the court order, Putin should be arrested if he visits South Africa.
A conference between Russia and African countries is currently underway in Moscow. Among others, the Speaker of the Lower House of the South African Parliament will be there Nosiviwe Mapisa-Nqakulawho met the speaker of the Russian Duma Vyacheslav Volodin on Friday. At that time, for example, the fact that the turnover between Russia and South Africa grew by more than 16 percent last year came to the fore. Communications of the Duma according to Mapisa-Nqakula also promised that South Africa will continue to be Russia's ally.
Germany would arrest immediately
At least Putin has nothing to do with Germany.
– I assume that The Hague will soon contact Interpol and the contracting states and ask for help in enforcement, the German Minister of Justice Marco Buschmann comment for Bild magazine.
In that case, Germany would have to arrest Putin and hand him over to the International Criminal Court, Buschmann stated. After the arrest warrant, also the Chancellor of Germany Olaf Scholz stated that no one is above the law.
Serbia condemns the arrest warrant
President of Serbia Aleksandar Vučić considers the arrest warrant a politically bad decision, AP reports.
– Placing an arrest warrant for Putin without going into the legalities will cause nasty political sanctions and it signals that there is no desire to talk about peace and a ceasefire, Vučić said at a press conference on Sunday.
– There is no doubt that those who decided on the matter want to make the discussions difficult for Putin.
According to Vučić, the arrest warrant only prolongs the war and complicates the discussion about the ceasefire.