While Travis Kelce is dominating the football field catching touchdowns, he is also dominating the gossip headlines too. He and Taylor Swift have been the suspected new power couple for the past couple of months now. It all started back on Kelce's podcast with his brother and Philadelphia Eagles center, Jason Kelce. Travis made an appearance at one of Taylor's shows during her massive Eras tour. He wanted to get the chance to meet her, but he said it never came to fruition.
His ideal scenario was to meet the pop phenom and hand her a friendship bracelet with his number on it. The bracelets have been a theme of her recent shows, so it shows that Travis is really in tune with her. While that did not happen, clearly, the two have not given up on each other. Multiple publications, including PageSix, have been reporting that they have been spotting the two in public. Just recently, the possible couple was seen in New York City having a great time enjoying each other's company.
Read More: Charleston White Goes Scorched Earth On Deion Sanders, Puts Bounty On His Son's Head
Travis Kelce And Taylor Swift Rumors Continue To Heat Up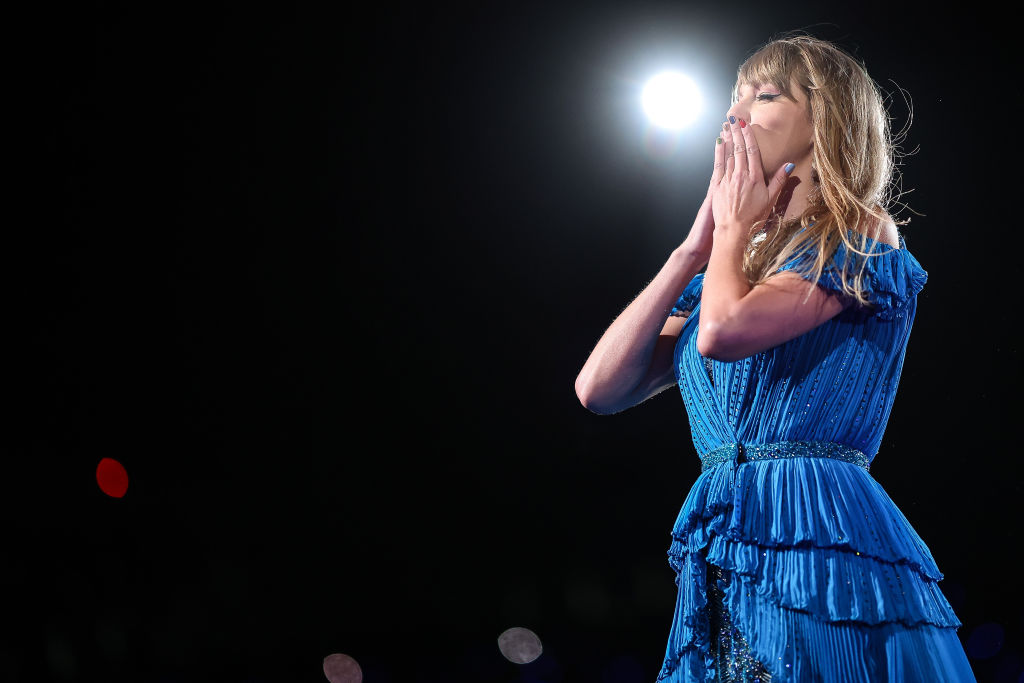 MEXICO CITY, MEXICO – AUGUST 24: EDITORIAL USE ONLY. Taylor Swift performs onstage during the "Taylor Swift | The Eras Tour" at Foro Sol on August 24, 2023 in Mexico City, Mexico. (Photo by Hector Vivas/TAS23/Getty Images for TAS Rights Management)
Now, more speculation continues to arise because of Taylor's latest fashion choice. PageSix just got some pictures of the "Blank Space" singer wearing a necklace that has some meaning to it. According to the publication, a Swiftie noticed she was wearing Travis Kelce's birthstone, which is an opal. For all of the astrologists out there, his birthday is October 5, making him a Libra. Additionally, they reported that the pendant the opal is a part of represents love. This is only going to get more people talking and gossiping. When this relationship is confirmed the whole internet might implode.
What are your initial thoughts on Taylor Swift wearing a necklace with Travis Kelce's birthstone in it? If they are dating, why do you think they have not gone public with it? How long do you think they can keep this up for? We want to hear what you have to say about all of this. With that in mind, be sure to leave all of your thoughts and opinions in the comments section below. Additionally, always keep it locked in with HNHH for all of the latest breaking news around Taylor and Travis, as well as the rest of the pop culture world.
Read More: Offset And Key Glock Share Friendly Game Of Ping Pong At Colorado Buffaloes Game