Diagnosed more than twenty years ago, MS disease severely limits Saija Varjus' life.
Iskelmä singer Saija Varjus turns 58 on Monday. However, the anniversary is just another day among others for Varjus. Health-related challenges are more on my mind.
– It's more like a "take part" day. Time passes very quickly, Varjus says in Iltalehti's telephone interview.
Varjus worked as a music and visual arts teacher before being crowned Tango Queen in 1996. Just two years later, he was diagnosed with MS. The singer was only 33 years old at the time.
At first, the disease progressed slowly and Varjus pressed on with work: he made records, played gigs and sometimes also worked as a teacher. In 2009, he retired on disability.
– MS is just so diabolical. I move with a rollator at home. After all, this is mentally tough, but you just have to accept it. This is my life and the point, Varjus states.
Dream
In December 2018, Varjus fell badly, and he had to suffer for a long time from the consequences of the accident.
– I had such lumbar fractures. I fell really hard and got seven stitches in the head, he said earlier in an interview with Iltalehti.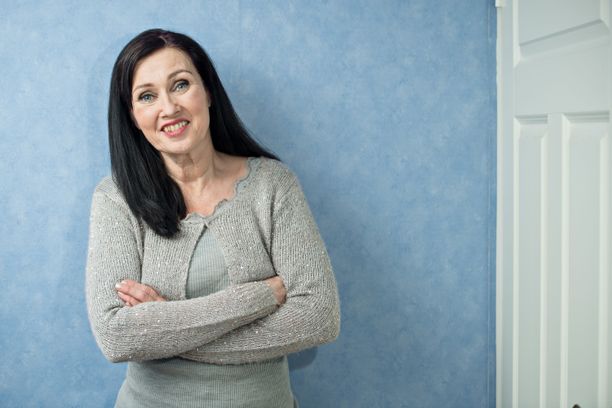 Saija Varjus dreams of walking independently. Jenni Gästgivar
He trains hard every day at home so that one day he will be able to realize his dream: to walk without aids.
Varjus, who lives in a detached house in Tervakoski, has a personal assistant who visits him daily. The hard work has brought results, because after exercising, Varjus can already walk a little on his own.
– Yes, it (the assistant) helps a lot. Everyday jogging upstairs and downstairs. It keeps me going and cheers me up. Otherwise, I would just push it, says Varjus.
New plans
Varjus has considered working as an electrician for years Keijo Sylander with. They got engaged in August 2019. Originally, the wedding was planned for the beginning of 2020 and then for the summer, but since then the plans have changed.
– I have decided that enough is enough. I'm not going to get married a third time, even if "Keke" wants to. Two times was enough for me, says Varjus.
Varjus and Keijo Sylander's plans changed. ATTE KAJOVA
However, despite the change in the world of thinking, the relationship can be quite exemplary. Varjus and Sylander still don't live under the same roof.
– He will come here again soon. I don't want to pressure him to move in with me. Let them do what they do, the singer says.
A boost to everyday life
Art has served as Varjus' lifeline amidst the challenges of the past years. The love for visual arts and music has not dissipated at all.
In addition to music, Varjus loves visual arts. Jenni Gästgivar
He says that he still receives invitations to various events. Soon he goes to say hello to his friend, also known as a multi-tasker in music Ilkka Vainiota at this gig.
– My friends push me when necessary. The support of those close to us has had a great impact, Varjus states.
Although the boyfriend hasn't moved under the same roof with Varjus, at least for now, someone else has.
– The dog person has turned into a cat person. There's a little puppy running around there, who came to me for the first time on Saturday. That's very kind, Varjus smiles.