Loreen's Tattoo song is suspected to have been modeled after an 18-year-old song.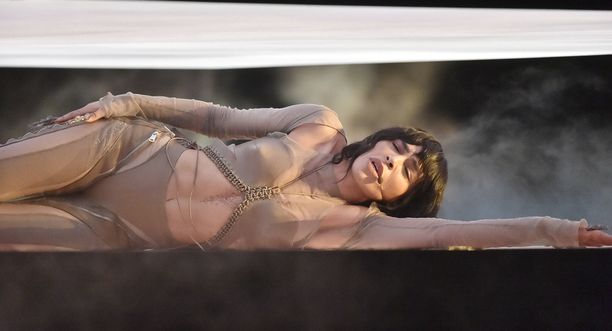 Loreen has been caught in the middle of suspicions of plagiarism. AOP / Stella Pictures
Sweden has become the overwhelming number one favorite for the Eurovision Song Contest held in May. Our western neighbor is represented by the Eurovision winner from 11 years ago Loreen with his piece Tattoo.
Loreen's representative place was decided on Saturday, when she won the Swedish Melodifestivalen competition with an overwhelming score. After the Melodifestivalen final, there has been a lot of discussion about the song Tattoo internationally, and now suspicions of plagiarism have also come to light.
In particular, videos started appearing on Tiktok and Twitter over the weekend, in which the song Tattoo was compared to Ukraine's 2011 Eurovision representative Mika Newton's to the old one published in 2005 V plenu to the song. The attention of Eurovision fans was especially drawn to the bridge part of the song Tattoo, which was very similar in chord progression to the corresponding part of V plenu.
See the comparison video published on Tiktok below or from this link.
Mika Newton also said on social media that he noticed similarities between the songs.
He published a video story on his Instagram account in which he commented on Loreen's song.
– What can I say? He used almost the same idea as me. Honestly, if I inspired him enough to decide to go with almost the same show as me, then good luck! What else can I say? It's funny because it (the song) looks almost identical, Mika Newton commented in the video, which you can see below or from this link.
He also wrote about it on his Instagram story.
– In the last 48 hours, I have received so many messages about Loreen's new song. Many people think it sounds the same as my old song V pleny. What do you think? Does this sound similar? Newton wrote on top of the video, which features a clip of both songs.
V plenu is not the only song Loreen's Tattoo song has been compared to. In the opinion of many visu fans, the song has a lot in common with the chord flow of the song The Winner Takes It All by Abba.
Ismo Puljujärvi, Iltalehti's Eurovision-specialist journalist, also reflects on the issue in Iltalehti's last week's In an episode of the Viusupodi podcast.
Loreen also caused an uproar at the Melodifestivalen afterparty when Expressen published an embarrassing video about the singer on its website on Sunday.
On video Loreen snapped and ordered the DJ of the follow-up party, when he didn't play Loreen's song fast enough.