Megan Thee Stallion says that she was "so excited" when Justin Timberlake knew her "hot girl shit" catchphrase. The two met at the 2023 MTV Video Music Awards last Tuesday. While it was initially rumored that they had a heated confrontation, they cleared up speculation in a TikTok post afterward. Megan spoke about the video during an interview with Billboard published on Tuesday.
"Dawg! That's why my mouth was open big! I was so excited!" she said of seeing Timberlake say her catchphrase. "It's a good feeling when you know the icons know about you. It made me feel good. I was like, 'C'mon, real hot girl sh—!'"
Read More: Megan Thee Stallion & Justin Timberlake's Seemingly Heated Exchange Gets An Explanation
Megan Thee Stallion At The VMAs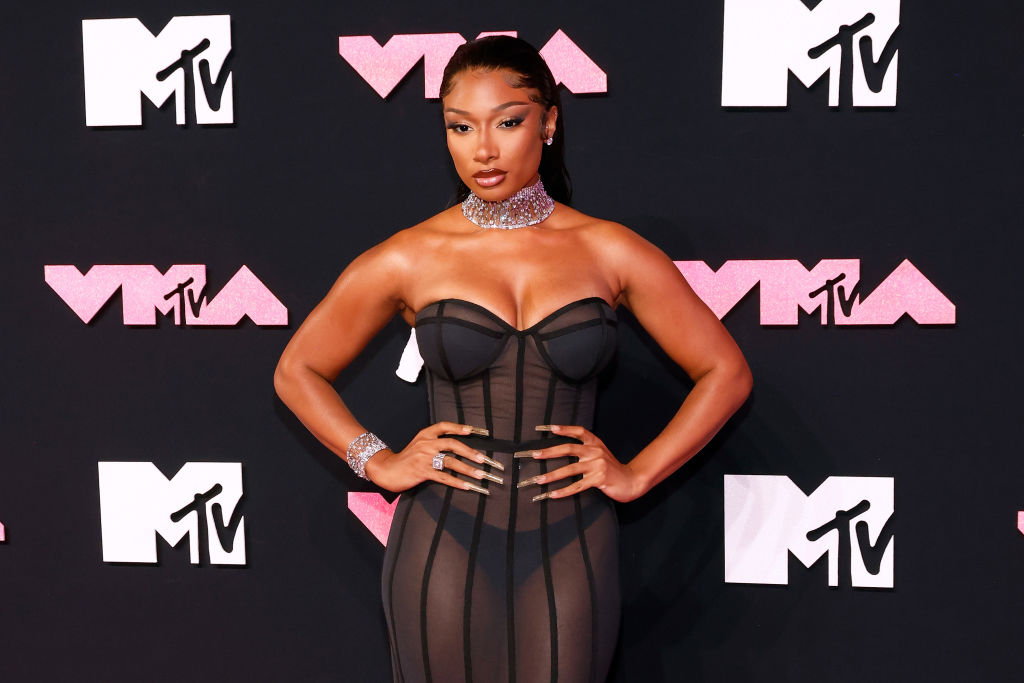 NEWARK, NEW JERSEY – SEPTEMBER 12: Megan Thee Stallion attends the 2023 MTV Video Music Awards at Prudential Center on September 12, 2023 in Newark, New Jersey. (Photo by Taylor Hill/Getty Images)
In addition to posting the TikTok, Megan also refuted the rumors while speaking with ET. "We were really crying-laughing because it was like, 'In what world is Megan Thee Stallion beefed out on Justin Timberlake?" she told the outlet. "I'm in the back tussling with *NSYNC? That sounds cr*zy! I just I thought it was so funny because I talk with my hands and my nails are so long so I know this looks cr*zy, like you almost thought I was coming for you and I was coming for him. But, yeah this is just how I talk."
In addition to addressing her TikTok with Timberlake during the Billboard interview, Megan also confirmed that she's got new music coming soon. She says she's got fresh ideas and is working with new producers. "It's definitely coming very soon," she revealed. "I'm really excited about this chapter of my life because I feel like I'm finally closing all the old chapters, and now I'm starting with a blank slate. Very fresh, very new. I think Thee Hotties are gonna be so excited. I'm trying different things. I got a lot of things that I produced with Ju and with some new producers." Be on the lookout for further updates on new music from Megan Thee Stallion on HotNewHipHop.
Read More: Megan Thee Stallion And Justin Timberlake Squash VMA Beef Rumors With New TikTok
[Via]