Morgan Turinui reckons the Waratahs should lean into Ardie Savea's recent dummy spit and try to wind up the Hurricanes captain.
Waratahs lock Ned Hanigan suggested on Wednesday that the visitors shouldn't "poke the bear" while flanker Charlie Gamble labelled Savea one of the sport's current best.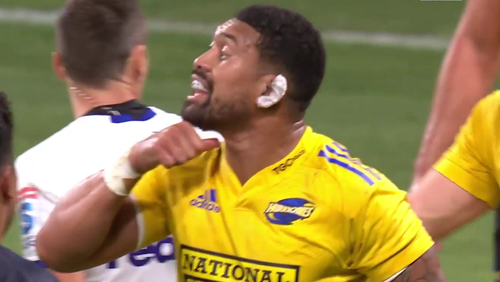 "I'm going to say this from the safety of the commentary box – surely they should be poking the bear," said Turinui.
"He's had discipline issues. He's their best player, if they can get him a little bit off his game, if he's second-guessing himself – how hard he can go, how physical he can be – is that not a little weapon? This is a tough challenge over there."
Savea's throat-slitting gesture came just as the match between his Hurricanes and the Rebels hit halftime.
A scuffle at the try line lingered before Savea flung Carter Gordon to the ground.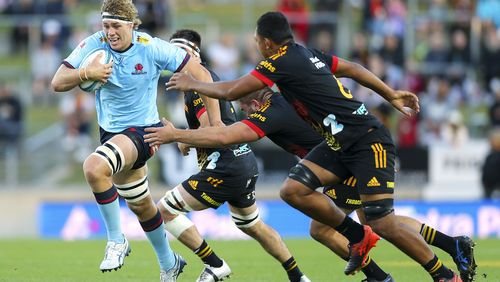 The instigator was given a yellow card for his troubles having been deemed to have escalated the conflict.
The Rebels, visibly fired up as a result, bounced back and came close to toppling the Hurricanes.
"Right on halftime, that's how – poked the bear and poked the hole and they got back into the game," Horan explained.
"They got within six points, I think towards the end of that match, so it's gonna be a tough one. 
"All that Hurricanes team follow one bloke and it's Ardie Savea, the stats on when he's not playing in the win-loss, the Hurricanes when he's not, there is huge."
Justin Harrison suggested the forthcoming clash was an opportunity for Savea to save some face.
"Ardie Savea is a talented rugby player," said the former Wallabies international.
"He's been through this period of ill-discipline now and we're looking forward to seeing him move forward into what we know that sort of person presents on the field – a passionate and parochial representative for the Hurricanes in New Zealand rugby and also creating in his own way, hearts and minds and heroes that are aspirational."
The Hurricanes will host the Waratahs from 5:05pm.