Henrik's father was one of Finland's most wanted criminals for a long time. In 2020, Arman Alinko called his son and asked him to report himself.
Henrik Hope22, father was still in 2019 one of the most wanted criminals in Finland.
The matter only became apparent to Hope when she was 15 years old. He was working at the store's cash register when a customer showed him the cover of an afternoon newspaper updating the Central Criminal Police's list of most wanted criminals. The cover of the magazine showed the father, Arma Alinkoface.
– I went into shock for a moment, Hopea says.
– It was a really strange feeling waiting to be able to buy a magazine at the checkout and read it.
The newspaper read that the father is suspected of a serious drug crime.
Emotions ranged from shame to confusion. Shame that your own father's face was associated with serious accusations in the magazine. Confusion about what all had happened without Silver's knowledge.
Although the father, who was an entrepreneur, had owned sports cars and luxury watches, the origin of the money was unknown to Hopea.
– I had wondered if all his money had been obtained by perfectly legal means. Yes, the alarm bells are ringing a bit.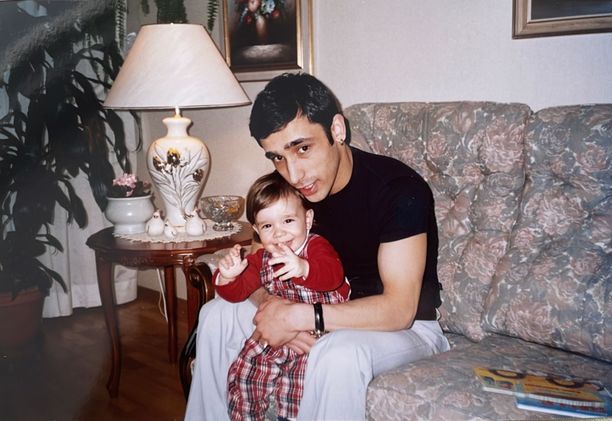 Hopea says that her father is a loving person despite his criminal background. Interviewee's home album
After getting home, teenage Hopea talked about it with her mother. Hopea poured out her feelings, mother listened. The parents had divorced when Hopea was small. Although the father had been in prison twice before, the mother did not know how extensive the activity really was.
A call to KRP
Alinko fled Finland in 2015. For years, he kept in touch with his son occasionally and cautiously.
There were messages from strange numbers every now and then, and every few months a phone call where the father asked how the boy was and told his.
In 2020, Alinko's father became seriously ill. At that time, he made a different kind of phone call to his son.
– Father called and asked if I knew Papa. That it's not a long time anymore, Hopea remembers.
– Father said that he doesn't want to be a fugitive anymore, but wants to come back and take responsibility for his actions. Father asked if I could call the Central Criminal Police.
Alinko gave her son a phone number to call and instructions on what to say.
Hopea says she was relieved. It would all be over at last.
– I was more happy that I can get my father to Finland and get to see him.
Reunion at the funeral
Alinko was arrested at Helsinki-Vantaa airport in January 2021. He was still able to visit his father in the hospital.
– As I recall, a few days after that, papa passed away. The prison rang the father to admit him to the funeral.
At her grandfather's funeral, Hopea saw her father for the first time in seven years.
Henrik Hopea met his father at the funeral for the first time in 7 years. Interviewee's home album
Alinko was convicted of two aggravated drug crimes, four aggravated frauds and aggravated embezzlement. The crimes took place in 2013–2014. He is serving his nine-year sentence in Vantaa prison.
Hopea keeps in touch with her father weekly via video call.
– I am not proud of the crimes committed by my father. He is still a really loving person who puts his loved ones before everything else.
– Even though all kinds of things have happened, our father-son relationship has remained good and close.
Opening up
Silver has never been very open about who her father is. When I was younger, only my closest friends knew – now hundreds of thousands of Finns know.
Silver published On his Tiktok account videos in which he talks about his father and reporting to KRP. The reception positively surprised Hope.
– I received many encouraging comments that it was good that I did not continue on the same path, but focused on my own life.
– I am unnecessarily ashamed of who my father is. Who my father is does not define who I am.
Hopea does not want to glorify crime and does not encourage it. He wants to tell his own story.
– I want to show people that everything is not always black and white. The perpetrator of crimes is not necessarily a fundamentally bad person, but is able to change.
– I finally see that the father has changed and wants to leave the old things behind.
Despite everything, the relationship between father and son has remained close. Interviewee's home album