It doesn't look like having a close relationship with their cousins is likely for Archie and Lilibet Mountbatten-Windsor. An author believes Prince Harry and Meghan Markle's kids will grow up "American through and through" while the lives of Prince William and Kate Middleton's children will seem "alien" in comparison. 
Archie and Lilibet are likely to have a 'minimal relationship with George, Charlotte, and Louis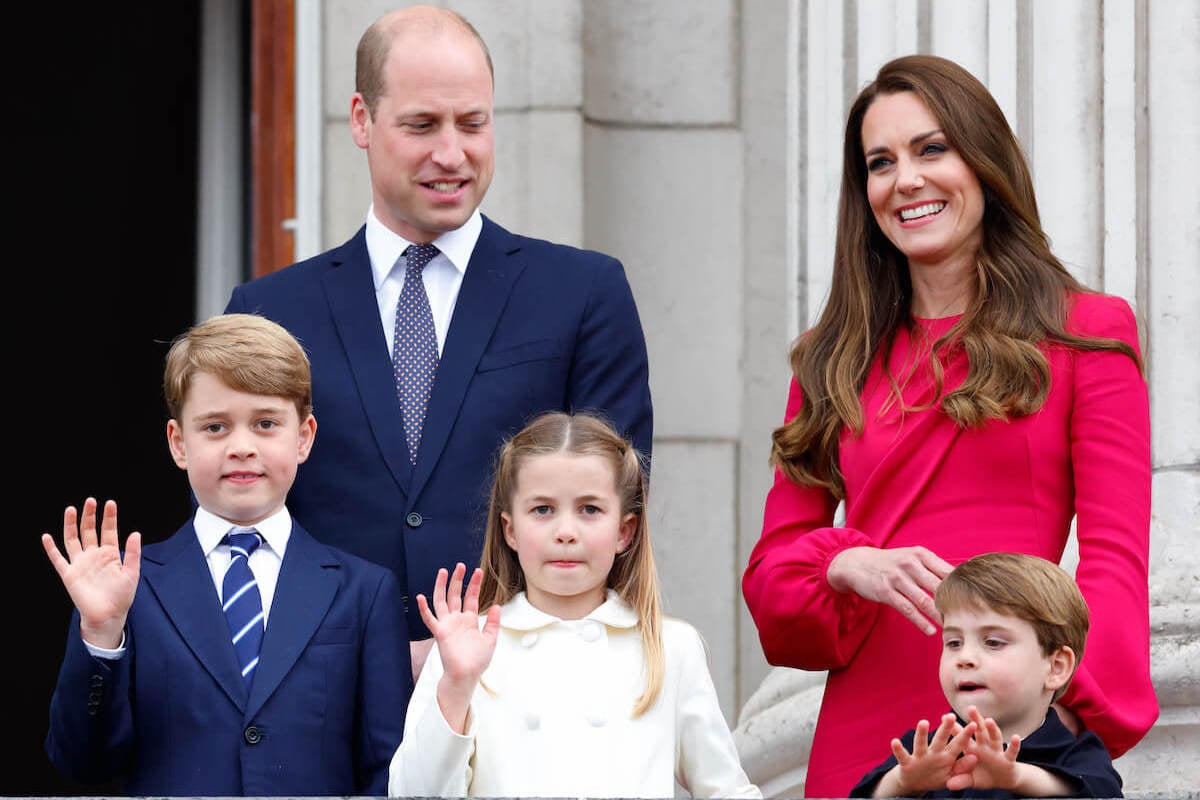 Prince George, 9, Princess Charlotte, 7, and Prince Louis, 4, might be relatively close in age to their cousins, Archie, 3, and Lili, 1,  but a royal author believes the closeness stops there. 
"Do you think they'll have any relationship with their cousins i.e. George, Charlotte and Louis?" Jack Royston asked Gilded Youth author Tom Quinn on The Royal Report's March 1 episode.
"No, I think [they will have] a minimal relationship with their cousins," Quinn replied. "Because unless their parents can repair their relationships, it will be very difficult for the children. How will the children do it?"
The distance and their day-to-day lives may also be a barrier for George, Charlotte, Louis, Archie, and Lili. 
Harry and Meghan's children are "not over here [in Britain] stalking in the highlands or shooting pheasants at Sandringham," Quinn said. "That will be an alien thing for them." 
"And I think it's extremely unlikely […] they'll suddenly come back and take part in the sort of activities that younger royals take part in over here," he continued, saying "they're going to be American through and through and I think that's the way Meghan wants it."
1 of Harry or William's kids may someday 'reach out' but media scrutiny would make it 'very difficult'
Elsewhere in the podcast, Quinn shared that one of the children, whether it's George, Charlotte, Louis, Archie, or Lili, may try to build a relationship. 
"I can imagine one of them […] when they're older, might reach out and think 'we really need to do something about this,'" he said. Although their parents' history, specifically the breakdown of the Duke of Sussex and Prince of Wales' relationship, would complicate it. 
"I think if they're constantly under the media spotlight, it will be very difficult for them because everyone will comment on it," the author explained. "If they suddenly meet up, the press will get hold of it and make a big thing of it, and they'll be back to square one."
Archie and Lili predicted to live in the American celebrity 'world' 
Currently living an ocean — and thousands of miles — away from their cousins, Archie and Lili call California home. They reside with the Duke and Duchess of Sussex in the star-studded seaside enclave of Montecito, California. 
According to Quinn, Harry and Meghan's kids will likely stick nearby as they grow up and create lives for themselves in the celebrity "world." 
"I think they're much more likely to have a glittering media career than a glittering royal career, just because that will be the massive influence," he said. "You know, they're living in America, they're living next door to film people and celebrities, that'll be their world." 
Neighbors in Montecito include Orlando Bloom and Katy Perry, Ellen DeGeneres and Portia de Rossi, Oprah, and Rob Lowe, just to name a few. 
"We know that from other film people that their children might struggle a bit but you always find that they're involved at some level with Hollywood […] if that's where you grow up, that's what you take in," Quinn added.