France is often thought of as a military superpower.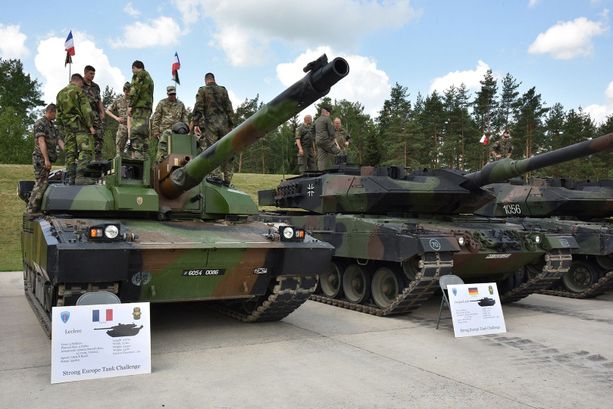 Germany in particular has been criticized in recent months for its delay in providing arms aid. However, France's military aid to Ukraine has been less than Germany's. ABACA/Shutterstock
Germany has been criticized several times in recent months, for example, for blocking arms aid to Ukraine.
France has given Ukraine less arms aid than even Germany, which is criticized.
Although the French arms industry is among the largest in the world, the volumes of its own stocks are surprisingly low.
France has given Ukraine even less military aid than Germany, which is still criticized, although France generally speaks in favor of a strong EU defense and wants to profile itself as a European military power and leading state.
Iltalehti asked the research doctor of the Institute of Foreign Policy Iro Särkä, why France still doesn't get much criticism, unlike Germany. One significant reason can be found in battle tanks.
– Germany owns the arms export licenses for the Leopards. They are in use in 15 countries, several of which are EU countries. French Leclerc wagons, on the other hand, are not in use in other EU member states. France's role has therefore been smaller than Germany's in this key issue regarding arms aid, Särkkä opens.
France's arms aid to Ukraine is among the top five NATO countries in terms of aid, but considering their size, many parties have considered both France's and Germany's aid insufficient.
– In the case of France, it is of course completely justified to ask the question why they don't give more than, for example, Poland or Canada. Of course, according to the announcement it made last fall, France gave arms aid for 2 billion euros, so that cannot be underestimated too much either.
Stocks empty
France is often thought of as a military superpower. According to Särkä, it has consciously maintained an image of itself as the European security policy leader. Although the French arms industry is among the largest in the world, the volumes of its own stocks are surprisingly low.
After the Cold War, France has also reduced and scaled back its regional defense. This has led to a significant weakening of its military capabilities.
– There have also been estimates that France does not have the long-term ability to defend even itself with such traditional military resources. Of course, they have a nuclear weapon, and they will pledge it to the last.
Iro Särkkä, PhD researcher at the Foreign Policy Institute. Foreign Policy Institute
According to the research doctor, in recent years France has had, and continues to have, problems in getting its own defense capability and capacity to such a level that it would be able to give Ukraine help to the same extent as, for example, Great Britain.
President of France Emmanuel Macron announced last week the decision to increase defense appropriations to 400 billion for the years 2024–2030, while in 2019–2025 the defense budget was less than 300 billion.
– This decision also indicates that the situation has been noticed, perhaps too late. Efforts are now being made to address the deficit in defense capacity, but the changes will not happen overnight.
Credibility suffers
The research doctor considers President Macron's statements to be at least unusual at times, referring for example to his speeches in December about giving security guarantees to Russia.
– They were completely incomprehensible statements. Perhaps there is some effort, as it were, to find a negotiating position for France that would put them on a pedestal. But these recent twists do not in the least strengthen the confidence of other allies towards France.
French President Emmanuel Macron (right) and German Chancellor Olaf Scholz (left) met in Paris on Sunday. BENOIT TESSIER / POOL
France has been the target of several terrorist attacks during the 21st century, and Särkkä points out that the fight against terrorism is a much bigger issue in France than is understood in the rest of Europe. In addition to its national security, it has used resources for smaller-scale operations in the Middle East and sub-Saharan Africa.
– A lot of resources have been spent there. The story maintained by France about this European defense, unity and that France wants to be a sort of alternative leader alongside the United States, it will suffer.
So during the large-scale war, France has not been in such a role that it was promoting big solutions. According to Särkä, the biggest reason for this is that there simply isn't enough talent and capacity.
– Words and actions do not match, and France's credibility has suffered and is still suffering quite a lot here.
Within the European Union, which has so far remained relatively united, strategic leadership is expected especially from the two largest EU countries.
– The actions of France and Germany send a strong political message. In other words, will Ukraine be supported, and if not fully supported, then it gives a weak signal about Europe's strategic leadership.