Adin Ross has reiterated his recent comment on a post from Megan Thee Stallion, in which he wrote back: "We don't care. Free Tory." While streaming live with fans, Ross explained that he doesn't care if he faces backlash for the position and that he believes Tory Lanez is innocent. Lanez is currently serving 10 years in prison for three felony charges related to shooting Megan Thee Stallion in 2020.
"I'ma talk on the situation, real quick. This is all I'm gonna say: I'm not apologizing for shit. It's still free Tory," Ross began. He then argued that there's "no evidence" to support the case against the incarcerated rapper. "Free him. He's innocent. Alright?" "I don't care! I've been canceled for way worse," Ross continued. "This is not even bad what I'm saying. I hate this shit bro."
Read More: Megan Thee Stallion's Twerking Video Prompts "Free Tory" Comment From Adin Ross
Megan Thee Stallion During Tory Lanez's Court Case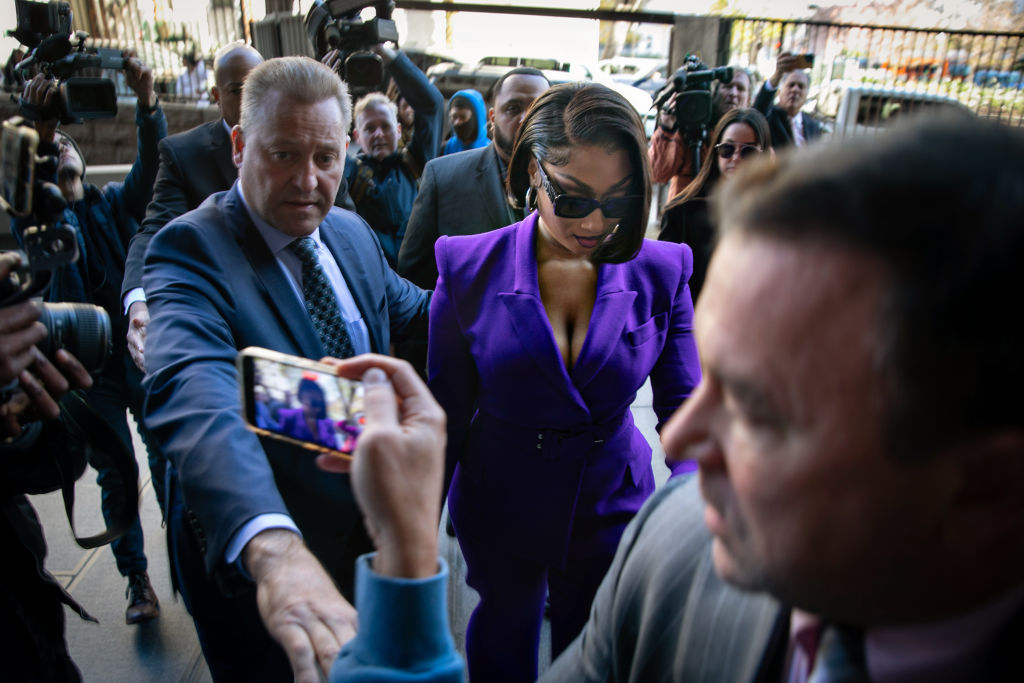 LOS ANGELES, CA – DECEMBER 13: Megan Thee Stallion whose legal name is Megan Pete arrives at court to testify in the trial of Rapper Tory Lanez for allegedly shooting her on Tuesday, Dec. 13, 2022 in Los Angeles, CA. (Jason Armond / Los Angeles Times via Getty Images)
Adin Ross is far from the only public figure to speak out in support of Tory Lanez in recent months. Meek Mill also called for his release during a Rolling Loud performance in Portugal back in July. Check out Ross' explanation of why he's still calling for Lanez's freedom below.
Adin Ross Explains Tory Lanez Support
Despite the comments, Megan explained in an interview with ET on Tuesday that she's in a great space. "I feel like I'm in such a fresh space, like everything about me is new," Megan told the outlet. "My attitude, my vibe. I feel like I'm starting a new chapter in my life. I think I've just gone through so much and I'm at a point where I don't care about a lot of stuff. I'm just so comfortable with myself. I'm like, 'OK, at this point, girl, what's the worst thing that can happen?' I'm just into taking risks right now."
Read More: Megan Thee Stallion Says She's Off Social Media & In A "Fresh Space"
[Via]