It's a bit hard to believe, but WrestleMania has been around for nearly 40 years. In that time, WWE managed to successfully establish 'Mania as the pinnacle of sports entertainment shows. This was achieved through brilliant marketing on the part of Vince McMahon and extraordinary performances from various stars throughout the years.
RELATED: 10 Best WrestleMania Women's Matches, According To CageMatch.net
One set of performers who haven't gotten their just due at WrestleMania until recently is WWE's female stars. Over the years, some key lady performers have contributed greatly to WrestleMania's success. Some of those contributions have flown under the radar, but that doesn't mean they don't deserve to be recognized and praised.
10
The Fabulous Moolah
Today, simply uttering The Fabulous Moolah's name can be controversial. However, 10 years ago, nobody would've batted an eye at honoring Moolah. Unfortunately, a few years back, Moolah's legacy took a huge hit amid allegations of mistreatment and abuse of other female performers.
Moolah played a big part in the first two WrestleManias though. At WrestleMania 1, Moolah was in Leilani Kai's corner for her match against Wendi Richter. At WrestleMania 2, Moolah defended the WWE Women's Championship against Velvet McIntyre. She'd also have a WrestleMania Memorial Battle Royal named after she had it not been for those nasty allegations.
9
Wendi Richter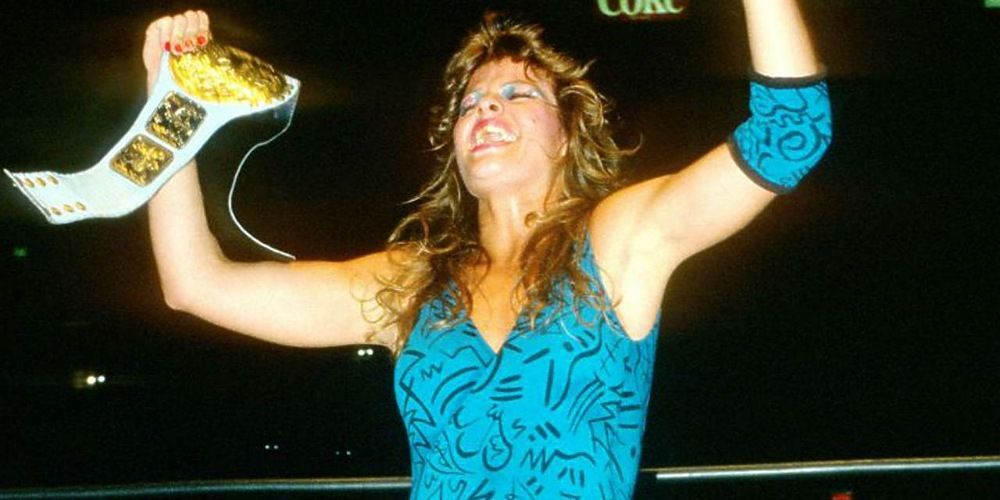 Wendi Richter is one of the more interesting female wrestlers in WWE history solely based on how quickly her career trajectory changed. At the time of the first
WrestleMania,
Richter was easily WWE's top female wrestler and it seemed as though she would be a building block for the future. Though things would change, Richter's
WrestleMania
legacy can't be diminished.
It might be hard for some fans to understand today but at the time, Richter's popularity rivaled any male wrestler in WWE not named Hulk Hogan. This is why she had such a prominent role in the first ​​​WrestleMania, where she went on second to last and won the WWE Women's Championship.
8
Sherri Martel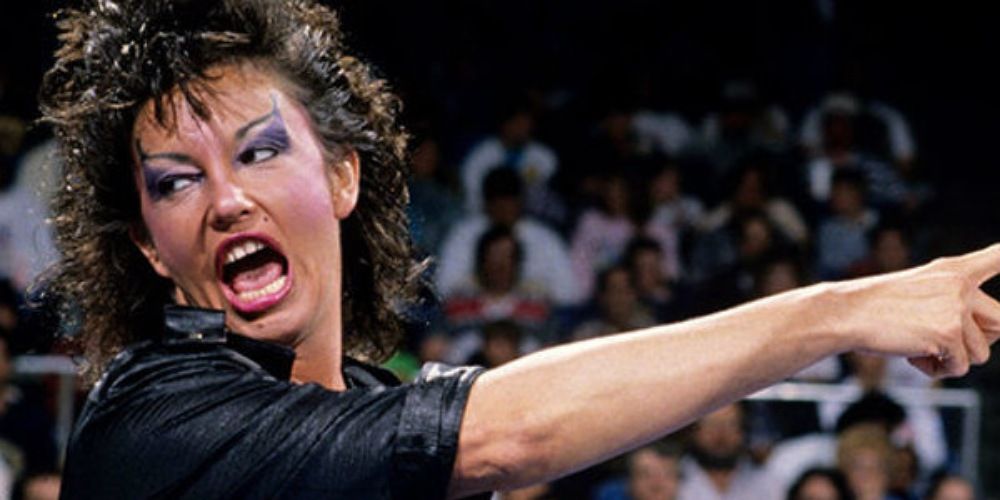 Sherri Martel is one of the most underrated talents in wrestling history, let alone WrestleMania history. Her first WrestleMania appearance came alongside The Honky Tonk Man at WrestleMania 4, as Peggy Sue. She'd make an appearance at WrestleMania 5 to take pleasure in Miss Elizabeth's Mega Powers Exploding.
By WrestleMania 6, Sherri was in a marquee match alongside Randy Savage. She'd play a huge role in WrestleMania 7, turning on Savage after his loss to The Ultimate Warrior. At WrestleMania 9, Sherri would play a key role in the storyline between Shawn Michaels and Tatanka. That's a lot of contributions that often go unmentioned.
7
Sasha Banks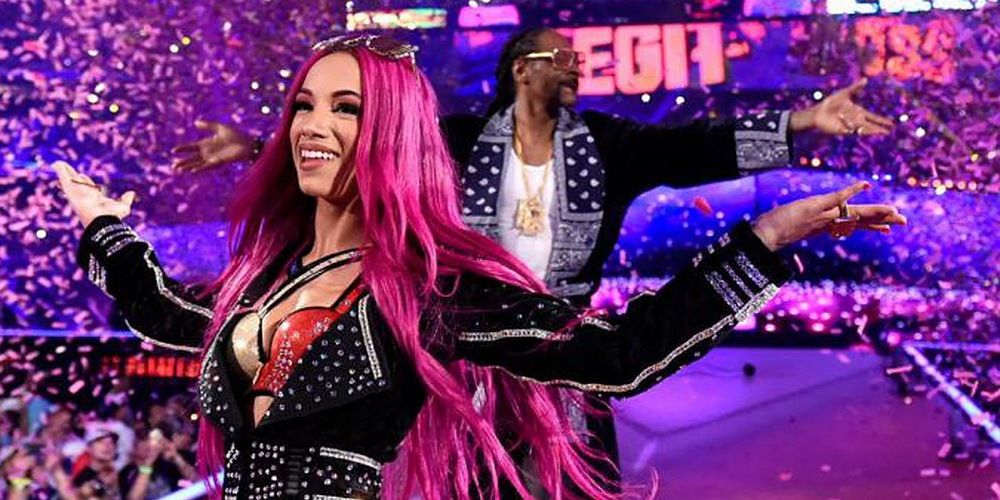 Today,

Sasha Banks

seems to be persona non grata in WWE. This is a result of Banks continuously voicing her opinions on the direction of her character and walking out on the company. If Banks has truly wrestled her last match for WWE it's a shame because she truly was a huge contributor to WWE and women's wrestling overall.

​
RELATED: Sasha Banks: Top 10 Wrestlers She's Faced The Most
Banks' WrestleMania legacy seems to be secure though. Whether she ever works another match on wrestling's grandest stage, or not. Banks has had multiple standout performances at WrestleMania. This includes being part of the first-ever WrestleMania main event to feature two African-Americans. The fact that they were women just makes it even more special and impressive.
6
Bianca Belair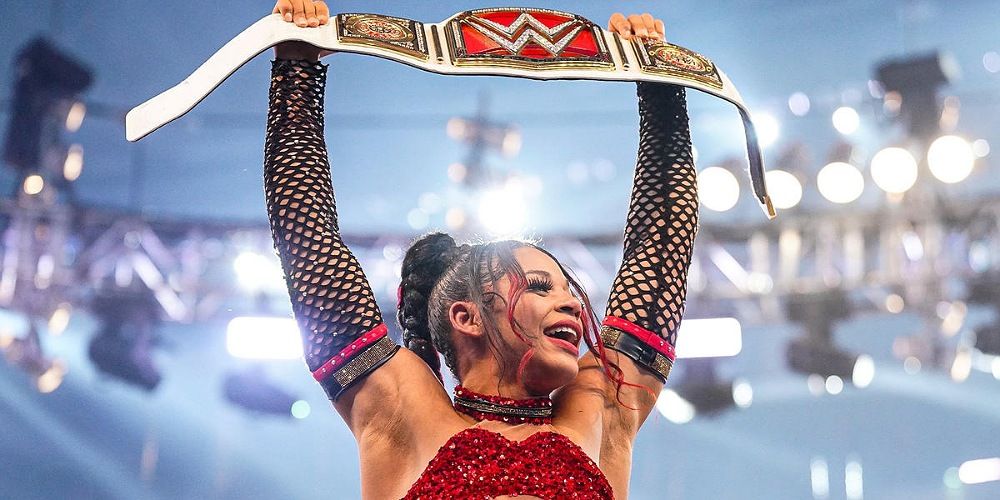 While Sashan Banks'
WrestleMania
legacy might be set, Bianca Belair seems to still have plenty of time to add to her already impressive
​​
legacy at the show. Belair, who was the other half of the first-ever
​​​WrestleMania
​​​​​main event to feature two African-American women, has been on a tear since her main roster call-up in 2020. A lot of her success has come at
WrestleMania.
Aside from her incredible match with Banks, where she came out on top, Belair had a banger with Becky Lynch at WrestleMania 38. ​​​​At this point, the sky seems to be the limit for Belair. A few more impressive performances and she'll make her way up this and any other similar list.
5
Charlotte Flair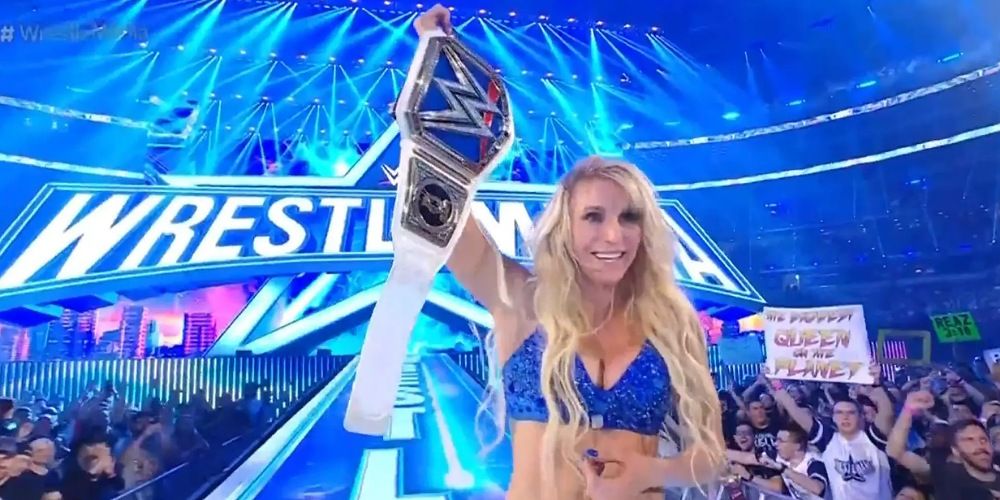 Having a famous last name in pro wrestling can either be a blessing or a burden. For Charlotte Flair, her father's legacy looming over her has certainly been advantageous but also presented
a lot of pressure to live up to
. Charlotte never faltered though. During her legendary career, she's not only lived up to the Flair name but taken it to new heights.
For as much as "Nature Boy" Ric Flair accomplished in pro wrestling, there's one thing he never did, main event ​​​​WrestleMania. At WrestleMania 35, Charlotte was one of three women to compete in the first ever all-woman WrestleMania main event.
4
Cyndi Lauper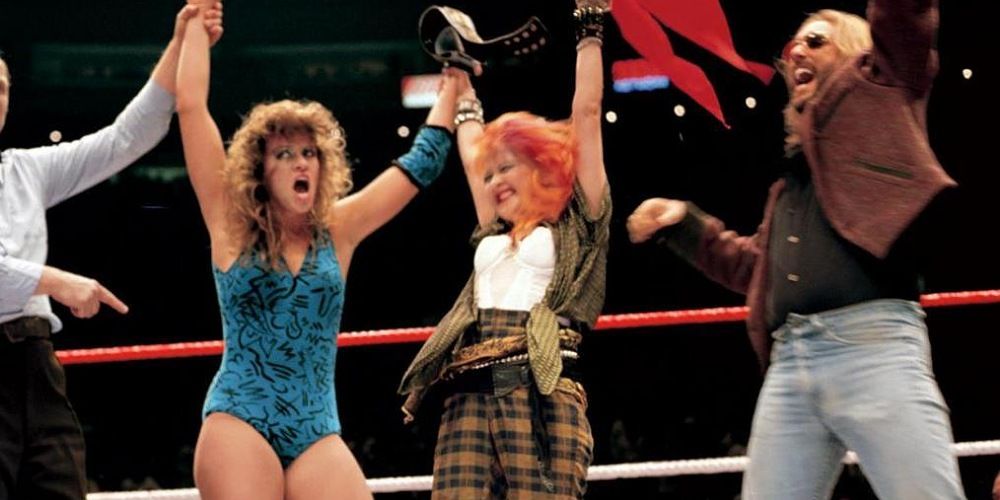 Seeing as how the first
WrestleMania
was nearly 40 years ago, some young fans might not understand Cindy Lauper's importance to the show's success. Believe it or not, Lauper was the catalyst behind the Rock 'N' Wrestling Connection. Her star power during the 80s helped legitimize WWE in the entertainment business.
RELATED: Why Cyndi Lauper Is The Forgotten Hero Of WWE History
Her endorsement of WWE went a long way in helping the promotion cross over into mainstream media. Her involvement in WrestleMania back then was the equivalent of say a Beyonce or Rihanna working with WWE today. Without Lauper in Wendi Richter's corner, it's fair to wonder if the first WrestleMania would've been a huge success that it was.
3
Miss Elizabeth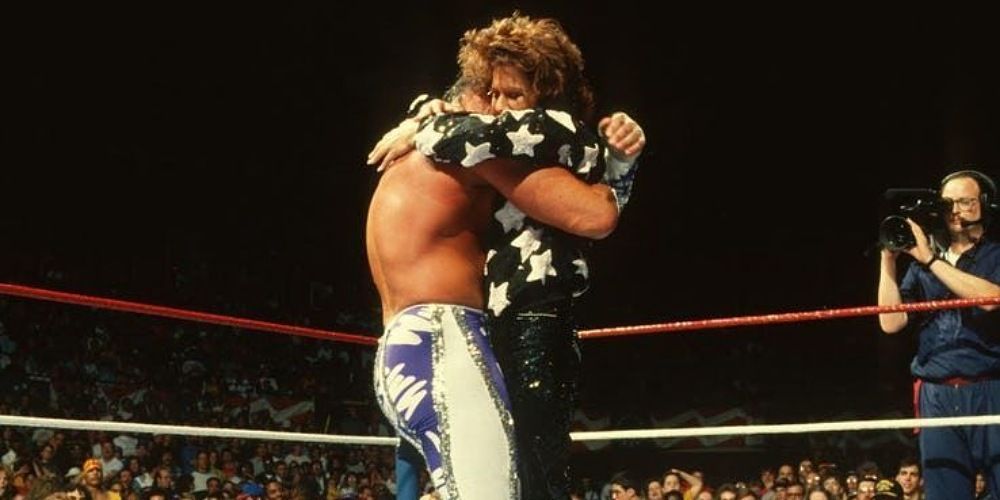 Some readers might scoff at the notion of having two non-wrestlers in the top 5 of this list. However, there's no denying Miss Elizabeth's importance and contributions to the first few WrestleMania
.
Beginning at
WrestleMania 4,
Liz played a huge role in the show's storyline. At
WrestleMania 4,
fans would get the iconic image of Randy Savage hoisting Elizabeth up on his shoulders after winning the WWE Championship.
At WrestleMania 5, Elizabeth would be caught in the middle as The Mega Powers exploded. She'd make a cameo at WrestleMania 6 while providing perhaps the most emotional WWE moment ever at WrestleMania 7 when she reunited with Savage. She would then be the center of the storyline between Ric Flair and Savage at ​​​​​​WrestleMania 8. ​​Those kinds of contributions can't be ignored or downplayed.
2
Ronda Rousey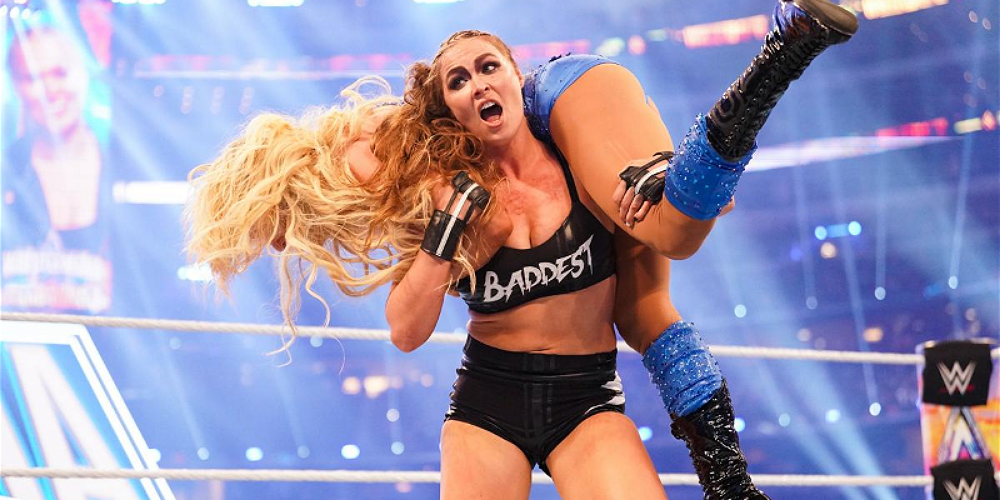 Pro wrestling fans typically don't like outsiders crossing over into the sport and taking opportunities from other deserving performers.
Ronda Rousey
's case was a bit different though. When Rousey signed with WWE in 2018, the WWE audience might've pushed back against her but there was no denying her star power.
Rousey was the catalyst behind the first-ever all-woman WrestleMania main event. Some fans might argue that WWE could've booked that main event even without her but having her star power as a proven pay-per-view draw helped the cause tremendously. She may never be a huge fan favorite in WWE like she was in UFC but her contributions to the Women's division can't be understated.
1
Becky Lynch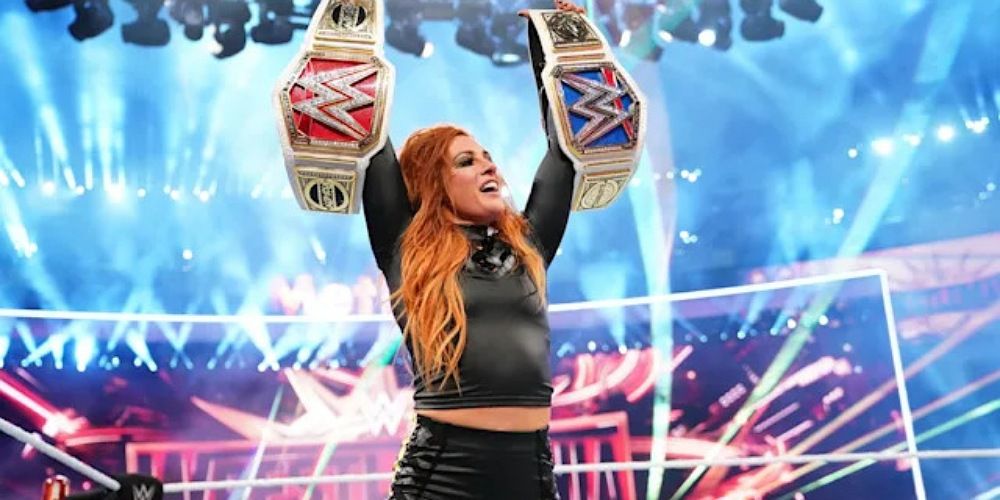 Ten years ago, no wrestling fan in their right mind would've ever thought we'd see an all-woman
WrestleMania
main event. It happened at
WrestleMania 35
​​​​​​though when Becky Lynch, Charlotte Flair, and Ronda Rousey
closed the biggest show of the year
. Some fans might credit that solely to Rousey, but they'd be wrong.
The truth is, even without Rousey, there's a good chance an all-woman ​​WrestleMania main event would've happened. If not that year then relatively soon. This is because, in 2018, Becky Lynch became WWE's hottest act in all pro wrestling, male or female. That year, "The Man" took the wrestling world by storm. Her hard work and massive popularity led to her leaving WrestleMania 35 as both Raw and SmackDown Women's Champion, making history in the process.