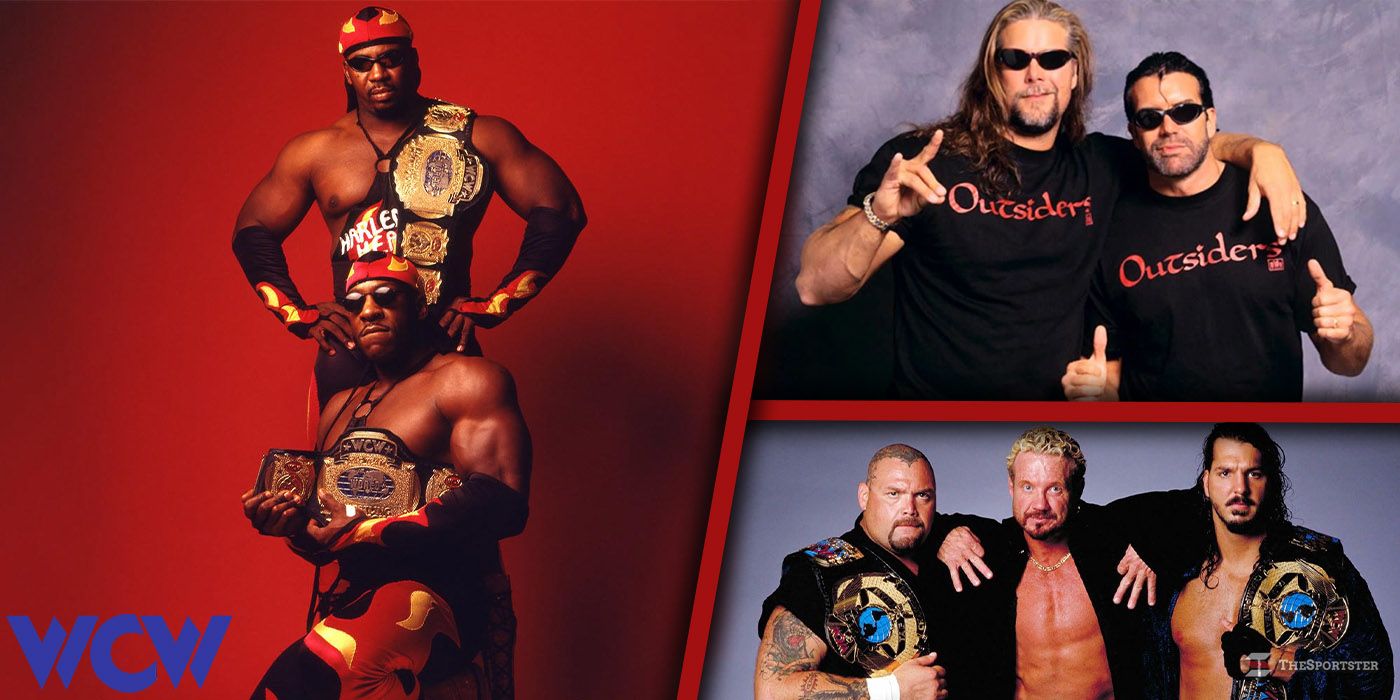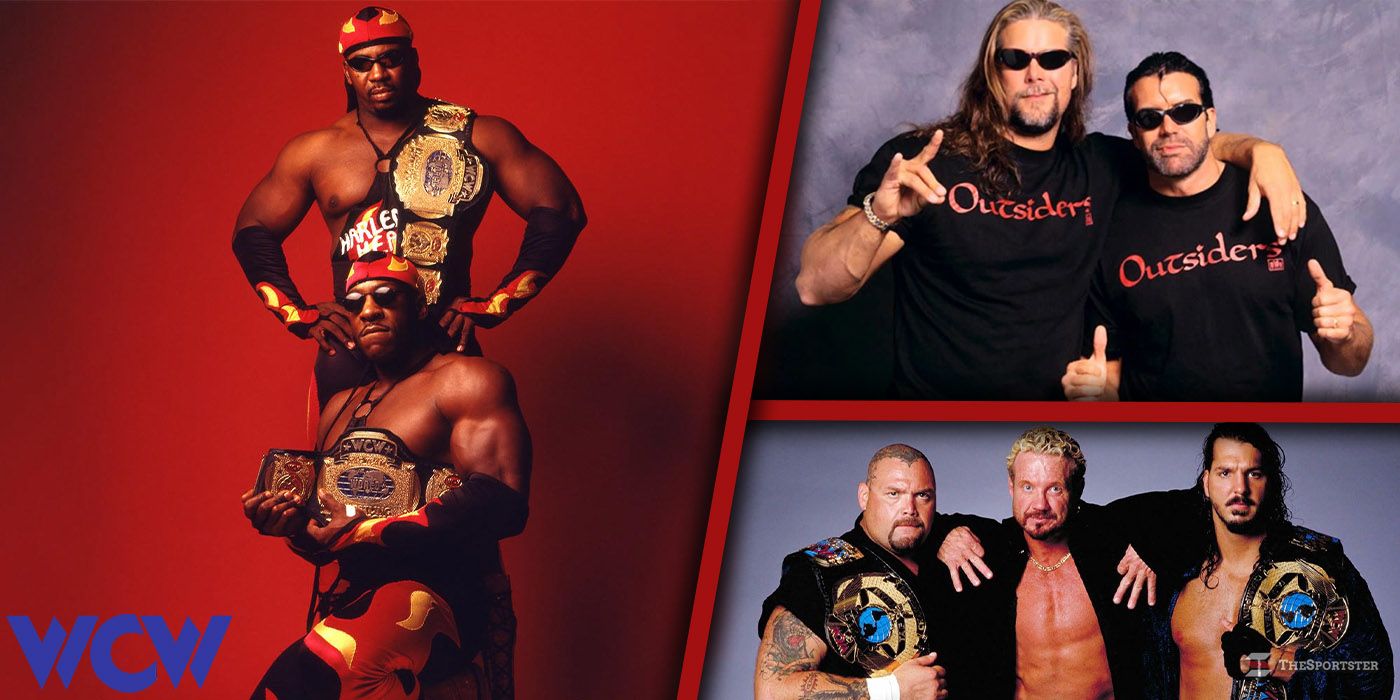 WCW made fans feel that tag team wrestling was more important there than WWE for many years. The presentation of the tag division featured WCW placing their teams in major matches. WCW often had tag team main event matches on TV and had some heavy hitters in the tag division. Main event names like Kevin Nash, Sting and Scott Steiner took part in relevant teams.
RELATED: 10 Most Unlikable Champions In WCW History, Ranked
A select group of tag teams deserve to be ranked highest when looking at who contributed most to the division. WCW found some great success from putting the right teams in the right situation to succeed and leave a positive legacy. The following tag team acts are the most important to ever compete in WCW's division.
10
The Jersey Triad
Underrated Chapter Of DDP's WCW Career
Jersey Friends Created Faction Together

DDP's Credibility Helped Them Get Over

Used Freebird Rule In Tag Matches
WCW used Diamond Dallas Page's upper card credibility to enhance his next act of the Jersey Triad. DDP helped elevate his friends Chris Kanyon and Bam Bam Bigelow in the trio group playing into their shared ties from New Jersey.
RELATED: 5 Backstage Moments That Led To WCW's Downfall (& 5 On-Screen)
The Jersey Triad found success dominating the tag division for most of their run together. All three wrestlers alternated competing in matches with the Freebird rules. The tag act worked well enough to be one of the ten most important teams in WCW history.
9
Rey Mysterio & Billy Kidman
Cruiserweight Friendship Led To Tag Team Success
Chemistry Worked As Opponents & Partners

Final Cruiserweight Tag Team Champions

WWE Used Them In A Few Tag Matches Too
The cruiserweight pairing of Rey Mysterio and Billy Kidman saw their chemistry working both as opponents and tag partners. WCW fans would name these two talents first among the most important babyface cruiserweights on their own, so it only made sense their tag act delivered great results.
The tag matches of Rey and Billy on the same side created must-watch television against various heel tandems. WCW made Kidman and Mysterio the top attraction in the short-lived cruiserweight tag team division in the final month before the company was purchased by WWE.
8
Hollywood Blondes
Makeshift Team Showed Two Future Stars' Potential
Hollywood Blondes Found Their Charisma Together

Ended Tag Run Too Early Before Fans Were Ready

Austin Became Singles Legend In WWE
WCW placed together Steve Austin and Brian Pillman as two talented heels struggling to find an opportunity to break out. The Hollywood Blondes utilized their shared television time to continue moving up the pecking order as a successful team.
Both wrestlers earned many new fans during this time with their exciting matches and entertaining promo segments. WCW ending the Hollywood Blondes too early when Pillman suffered an injury held them back from moving higher up the list.
7
Doom
Most Underrated Team Of WCW's Early Years
Fans Viewed Them As Legit Team

Teddy Long Helped Put Them Over Top

Breakup Set Up Ron Simmons' Historic Title Win
The tag team of Ron Simmons and Butch Reed formed Doom as a constant in the WCW tag division throughout the late 1980s and early 1990s. Doom felt like a credible tandem for their entire run with the legendary Teddy Long as their manager.
The NWA/WCW Tag Team Championship win of Doom cemented their status as the premiere duo of WCW for the time being. Simmons and Reed lasted long enough to have a credible run and compelling breakup when Reed turned heel. The breakup storyline was effective enough for Simmons to move into the world title scene after getting past Reed.
6
Nasty Boys
Introduced Hardcore Wrestling To Many New Fans
Great Rivalry With Mick Foley

Used Weapons For First Time In WCW

Had Underrated Match Quality For Time
WCW signed the Nasty Boys in the mid-1990s when their time in WWE ended. Brian Knobbs and Jerry Sags worked well in both promotions using their hardcore wrestling style to stand out at a time when few other names had matches like that.
The Nasty Boys thrived in WCW having a memorable feud against Mick Foley as Cactus Jack and various tag partners. Other upper card teams like the Steiner Brothers and Harlem Heat worked well with the Nasty Boys since they all worked physical styles.
5
The Road Warriors
Legendary Act Everywhere
Jumped Back & Forth Between WCW & WWE

Fans Respected Their Legacy

Always Felt Important In WCW
Another legendary duo to go back and forth between WWE and WCW was the Road Warriors. Animal and Hawk thrived in both major promotions, but their time in WCW featured them having more matches towards the top of the card.
RELATED: 5 WCW Tag Team Breakups That Worked Out Well (& 5 That Flopped)
The Road Warriors had strong matches against the other top teams in WCW's division whenever they worked there. Impressive stints during the early 1990s and a comeback run in 1996 led to Hawk and Animal thriving together in WCW before ultimately leaving for WWE each time.
4
Sting & Lex Luger
Good Enemies, Better Friends
Had Layered Storytelling During Their Tag Runs

Best Tag Team Of Two Singles Stars

Wolfpac Reunited Them
Two singles stars teaming up will create interest if they have strong chemistry and a good story behind them. Lex Luger and Sting were best friends on WCW television and in real life. Fans loved watching it become part of their stories on television.
Sting having to pick a side when Luger was a babyface with him and a heel to anyone else led to some interesting character advancements when Sting remained loyal to him. The story had another major chapter when Lex convinced Sting to reunite with him in the New World Order Wolfpac.
3
The Outsiders
Helped Make NWO Angle Important
Represented NWO In Tag Division

Real-Life Best Friends Using Chemistry On-Screen

Dominant Tag Title Reigns Made Them Feel Unbeatable
WCW instantly made Kevin Nash and Scott Hall the top tag team when representing the New World Order in the tag division. The Outsiders name for Hall and Nash worked perfectly as they dominated the tag division to show their importance with the NWO takeover.
Fans viewed the Outsiders as the top WCW tag team any time they were in the division as a full-time team. Nash and Hall thrived making their matches feel important to keep the NWO storyline hotter than ever. The Outsiders would be on any credible Mount Rushmore of WCW's most important tag teams.
2
Harlem Heat
Record-Setting Tag Team Success Dominated WCW
Ten Tag Title Reigns Together

All-Time Successful Tag Team Of Real-Life Brothers

Hall Of Fame Deserving Act
WCW found great success from the real-life brother pairing of Booker T and Stevie Ray in Harlem Heat. The duo joined WCW to boost their tag division and instantly got over for many years. Harlem Heat won the WCW Tag Team Championship on a shocking ten occasions together.
Booker and Stevie made it clear that they would feel important any time they were pushed in the tag division. WCW fans viewed Harlem Heat as a constant in the tag division that would have noteworthy matches against anyone they feuded with. WWE inducting Stevie and Booker into the Hall of Fame for their WCW accomplishments made perfect sense.
1
The Steiner Brothers
Heart & Soul Of WCW
Always Felt Like The Premiere Tag Team

Standard Bearer For WCW Tag Division

Rick & Scott Became Legends Working Together
No tag team felt more important to WCW's history than the Steiner Brothers tandem. The real-life brothers of Rick and Scott Steiner always came off as an upper card act after breaking out together in the tag team division.
Fans loved the Steiner Brothers competing against any established top tag team or makeshift duos of singles stars opposing them. Scott and Rick worked perfectly together and were as important as the singles names of WCW's homegrown core. Their entire run together featured WCW fans caring about them every step of the way.